If you have been following global tech and mobile economies in recent years, then you are well aware of just how expansive the Indian mobile economy is. The rapid growth seen in India's emerging app market is a result of a vast population, inexpensive and easily accessible data, and an exploding increase in demand for the latest smartphone devices. As of late, India is seen as a mobile-first (if not mobile-only) app economy that relies heavily on non-organic (paid) discovery methods to promote mobile app growth.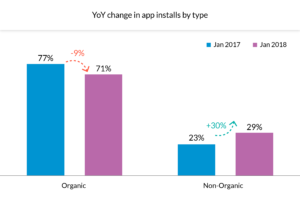 India's mobile app market has outpaced the US market in for number of downloads, and the projected growth shows no signs of stopping. In fact, in April of 2018, App Annie found India to be the fastest growing app market in the world, which is evident from the surge of revenue driven in the county during Q1 of 2018. India as a nation has seen extremely rapid economic and technological growth in 2016 and 2017 and has even surpassed China and the U.S. in economic growth.
India's Mobile Ecosystem Trends
India is the second largest smartphone market in the world, and despite a reported delay in the shipment of smartphone devices into the country, the number of smartphone users in India is expected to grow by more than 15% to reach 337 million users by the end of 2018.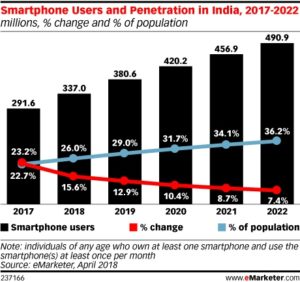 In 2016, India's second largest telecom operator Reliance Jio offered affordable, easily-accessible data plans that resulted in a rapid growth of connected mobile users. In 2018, India's mobile market is now known as the fastest growing mobile app market in the world in both the Apple iOS and Android app stores. This rapid growth presents an opportunity for app owners, advertisers, and app marketers alike.
In Q1 of 2018, India leads global charts for most combined downloads on both Android and iOS. Top mobile apps downloaded in 2018 included:
Facebook

UC Browser

WhatsApp

FB Messenger

SHAREit

Jio TV

Airtel TV

Hotstar

Truecaller

Hypster
The explosive mobile economy growth is not expected to slow down anytime soon, either. According to App Annie, India's mobile market is expected to grow more than 200% between 2017 and 2022, with an estimated 37 billion downloads expected in 2022. India's number of app downloads beats out all other major app markets except for China, leading the United States, Brazil, and Russia in number of app downloads.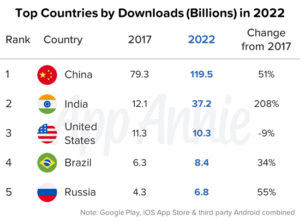 Fueling this rapid growth is the demand for video content and streaming services; 3 of the top 10 mobile apps downloaded in India were video and streaming apps, one of which is the streaming giant Netflix. While streaming and media downloads are in high demand, the demand for social media and communication apps remains almost as high, with Facebook, FB Messenger, and WhatsApp at the top of app download charts in 2018.
Indian Mobile Ad Spend and Revenue Trends
While the demand for both mobile apps and the smartphones themselves continues to rise in India, it's no surprise that revenue from mobile experiences has also continued to increase. The growing demand for the latest devices, coupled with the high use of search and social networks, has encouraged advertisers to increase their mobile ad budgets to reach new, engaged audiences. 43% of total digital ad spend was spent on mobile devices in 2017, totaling more than $460 million in mobile ad spend. This number is expected to reach more than $800 million in 2018, and more than $1.7 billion in 2021.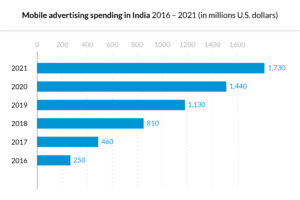 Mobile advertisers focus about 27% of their mobile ad spend on social media channels, and they spend a similar percentage of ad spend on search (25%). A large portion of Indian mobile ad spend was spent on video media, which has seen a 74% growth YoY. This indicates a strong opportunity for mobile marketers to capitalize on India's rapid mobile growth.
While digital (and subsequently, mobile) ad spend continues to rise in India's growing app market, traditional media and television continue to claim the majority of ad budgets in 2018. Despite this continued focus on traditional media, advertisers remain hopeful and continue to increase their mobile ad budgets alongside their traditional ad budgets.  
"While television continues to be the most popular advertising medium (in India), digital is the fastest growing, with ad spending recording double-digit growth rates up to 2021," Shelleen Shum, senior forecasting analyst at eMarketer, said in a statement.
"Driven by increasing mobile internet penetration, falling data prices and the availability of low-cost handsets, mobile will be a major contributor to the growth of digital advertising in the years to come as marketers embrace this channel to reach a new generation of young and digitally savvy consumers," Shum added.
Drawbacks of the Indian App Market Growth
Though the number of app downloads and apps used per day are higher than the global average for India's app ecosystem, and the amount spent on mobile advertising continues to grow, advertising fraud remains one of the most serious issues in the space. India has the highest rate of advertising fraud (17%) in the Asia-Pacific region, and false clicks from fake or untargeted users are estimated to be around 32%.
Fraud on mobile apps isn't the only thing plaguing India's mobile app market. India has a staggeringly high uninstall rate compared with other similar countries. The competition is fierce as thousands of apps competing for real estate on user's mobile device, and mobile users have many options to choose from for apps of any type. A large number of app options, coupled with slow download speeds and a large number of low-end devices with limited memory space, meaning that users often delete apps to save space and make room for other apps. This means that app owners and marketers not only have to budget to acquire a user initially, but they may also need to spend a considerable amount of their ad budget to get users to re-install their apps.
App Marketing Opportunities
While the number of smartphone users in India continues to rise, it's estimated that overall smartphone penetration in India will reach only around 30% by the end of 2022, over 450 million users. This implies a vast opportunity for marketers and app owners to reach the remaining 70% of India's massive population of 1.3 billion that may soon be purchasing their first smartphone device.
Data in India is considerably more affordable than it used to be even 5 years ago, but that doesn't mean that data speeds are keeping up with demand. Although the introduction of 4G LTE has greatly increased mobile usage, India remains the 112th slowest country in the world in terms of mobile download speeds, followed by Bangladesh (113th), Mozambique (114th), and Tanzania (114th).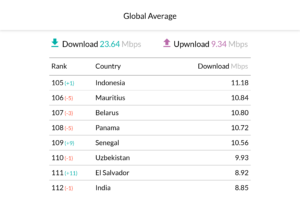 Slow data speeds continues to prevent even higher growth rates in India's mobile app market, and the majority of the population lives in rural areas without data connections. If app developers and owners want to penetrate and take advantage of India's massive population and app economy, they should focus on apps that don't require large data usage to download or use, prepare for spotty or nonexistent data connections, and allow users to access their apps offline whenever possible.
One thing is certain – the state of Mobile in India in 2018 is rapidly changing and will continue to grow and expand in the coming years. App owners and advertisers would be smart to watch India as a global player in mobile downloads and revenue in 2019 and beyond.
Appnext is a Mobile Monetization & App Marketing Platform,  engaged with multiple app discovery ecosystem players, such as DailyHunt, Indus OS, Flipkart, Myntra, AmazonShopping, Jabong, AmazonPrime, Cleartrip, Makemytrip, Goibibo, Ixigo, PhonePe, Paytm, FoodPanda, Swiggy, Zomato, Fynd, Shopclues.
Appnext will host its Appnext App Valley Mumbai event, an app-dedicated summit for India, on November 27, 2018. We have crafted an incredible lineup of presenters who are prepared to arm you with new strategies, insights and know-how to take your mobile app marketing to the next level. The event will host some of the hottest names in the industry:
Kabeer Chaudhary, Managing Partner APAC

,

M&C Saatchi Performance
Tarun Pathak, Associate Director at Counterpoint Technology Market
Herukh Shahani, AVP, Developer Relations, Indus OS
Raghav Singhal, Digital Marketing Head

,

PhonePe
Join us at App Valley Mumbai to be at the forefront of the app marketing evolution and discuss how the future will look for India's app ecosystem.