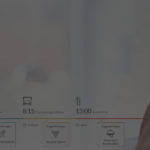 Something great is happening at this very moment. We're launching Appnext Timeline, the next-gen user intelligence and targeting technology that will mark the end of the Ad-Tech "stone age" and start a new era.
Challenging the Industry status quo
Appnext Timeline is going to shift the focus from profile and ad views to real-life user context, concentrating on relevance, engagement, and user experience. In the past few years, the Ad-Tech industry made substantial progress in regards to user intelligence capabilities, enabling marketers to understand who their ideal users are (by demographics, geo, etc.). For example, a marketer behind a taxi app knows multiple parameters about different user segments. As a result, users are bombarded with ads that might be accurately targeted to their demographic profiles but are close to irrelevant for the current moment throughout their day.
Appnext Timeline – Mobile in Context
Appnext Timeline leverages location, real-time and historical…
Read more