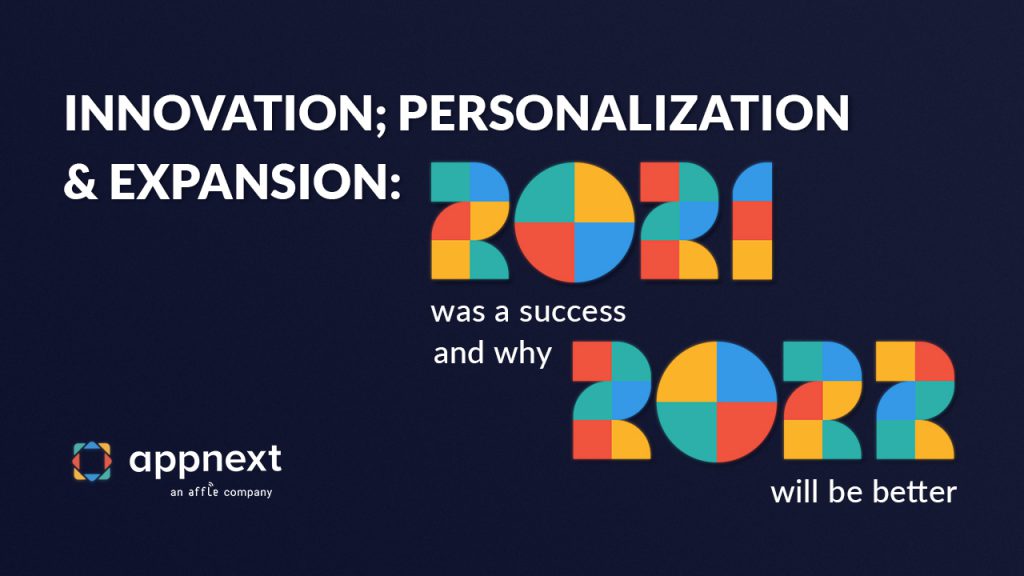 What an incredible and jam-packed year 2021 has been! The last 12 months have been some of our busiest and most successful: we have launched a significant new product and won a prestigious award; we have dominated industry rankings and expanded into emerging markets. We now embark on 2022 buoyed by our triumphs and riding on a wave of momentum. This new year is shaping up to be our most exciting yet.
One of the biggest highlights of last year was undoubtedly the January release of Appnext's Out of Box Experience (OOBE). This new offering perfected our already unrivalled end-to-end discovery solutions by ensuring we cover the entire mobile lifecycle: from the first moment users switch on a new device, Appnext is navigating them through the initial set-up and helping them customize their devices with apps and services they need. Significantly, the launch of OOBE demonstrates our leap forward in providing customers with a hyper-personalized mobile experience.
India: Why Localization Matters
In India the impact of our OOBE offering has been striking. This robust market represents one of our strongest locales, particularly because of the partnerships we have cultivated with some of India's best-selling Android providers. App developers in India have enthusiastically embraced self-serve media-buying platforms because of the ease and effectiveness of getting discovered by users across various on-device and in-app touchpoints. As we surge forward in India, we will take advantage of the trends and market shifts where we are already ahead of the curve. We will look to build on the vernacular trend and provide a truly localized experience. India is incredibly diverse with more than 120 languages spoken (22 of which are official or major languages) and over 1,500 dialects in usage. Its population is upwardly mobile: India is home to a thriving middle class and a tech-savvy younger generation that is cementing its reputation as a mobile-first market. Therefore, it is critical that we appeal to this wide array of consumers. Our products already facilitate a localized set-up, specific targeting according to location and language, and recommendations that are served in the relevant language for the user. Industry insights predict a huge technological uptake in India's smaller communities, which means localization is critical because we are seeking to appeal to users outside of larger urban centers who may not speak Hindi or English. These new smartphone users with greater connectivity will drive growth in categories such as entertainment & OTT, e-commerce, fintech, e-learning, shopping and gaming. Our India team anticipates continued growth in mobile payment apps over the next year, which correlates with a surge in demand during the outbreak of the COVID-19 pandemic. The 2021 India Mobile Payments Market Report showed transactions using traditional chip and pin cards – both online and in-app – plummeted by 14% in a year, while mobile payments enjoyed steady growth.
Turkey and Eastern Europe: E-commerce and OEM partnerships
Earlier this year, we announced the opening of a new office in Istanbul, Turkey, as part of our overall global expansion plan. This is the culmination of years of momentous growth in the country, where we now enjoy an average of 20 daily interactions from eight million users. Appnext is playing a pivotal role in Turkey's thriving e-commerce market and we look forward to continued progress in this vertical and others.
In Russia & CIS we had an outstanding year thanks to the extraordinary effort put in by our team here. At present, Appnext serves a massive 30+ billion app recommendations a month in Russia & CIS to our 40+ million daily active users in this region. The team has been instrumental in helping us cultivate new relationships with local developers to provide the most complete offering of apps and services to users.
Latin America: The Future is 5G
Our journey in Latin America's thriving mobile market this year has seen significant growth across the region. The region is currently experiencing something of a mobile boom amid predictions that this year will see a milestone of half a billion smartphone connections across the continent. Furthermore, we are buzzing in anticipation at the emerging opportunities that will come as a result of the launch of 5G in Brazil following the hugely anticipated auction late last year. The 5G rollout in LATAM's largest economy is big news for marketers and developers. Its impact will be felt across the whole country, especially in major metropolitan hubs such as São Paulo and Rio de Janeiro where this technology can be most effectively utilized, for example, in transportation and food delivery apps. Appnext will strive to ensure our clients reap maximum benefits from 5G, including its application to the acquisition of new users.
Southeast Asia: Sustained growth and the Rise of the Super-App
It was remarkable to witness our sustained growth in Southeast Asia over the past year, which we celebrated by the opening of a new office in Vietnam last month. The app landscape in Southeast Asia is rapidly evolving as numerous firms jostle to become the next tech titan in the region. Mynt, which operates e-wallet GCash, was last year the only Philippines startup to achieve unicorn status. While Mynt's offering is centered on providing financial access, such as mobile payments and loans, it has expanded to encompass e-commerce service GLife as it eyes a super-app future. Likewise, Vietnamese startup MoMo announced last year following a successful funding round that it is focusing on its rural expansion with the goal of achieving super-app status. The rise of these all-in-one platforms is good news for smaller developers looking to break into the market. It gives smaller enterprises access to an already-thriving user base as they come under the umbrella of the larger app, in addition to lowering the cost of app development by allowing them to produce mini-apps.
We would be remiss were we not to mention the silver medal we received in the MMA SMARTIES Indonesia awards in November for our submission with educational platform Ruangguru in the mobile apps category. The prestigious annual competition recognizes the very best in mobile advertising: the brands, agencies and tech providers that have launched the most innovative and inspiring marketing campaigns with a significant business impact. It was, therefore, a privilege to be placed among the trailblazers in our industry and to be the only technology platform among the winners in the mobile apps category. It should be noted that the win reflects the Herculean effort of our dynamic and creative Indonesia team. Appnext has been growing our operations in Indonesia over the past few years and we are now among the biggest app discovery platforms in the country. Over the coming year, we will ascend from this strong foothold we have in the market, particularly as smartphone users gravitate towards emerging super-apps that look set to takeover in this region.
Steaming Ahead: The AppsFlyer Performance Index
We achieved an excellent showing in the latest edition of the biannual AppsFlyer Performance Index and are recognized as the leading non-SRN platform on Android devices in the non-gaming category in the Retention Index.
While we scored well across the board in all categories in every single region, in Southeast Asia we were ranked second overall on Android (when removing SRNs) in the Growth Index, which measures the fastest-growing media sources. In the Retention Index, we saw off competition from major industry players to be crowned the leading non-SRN in Southeast Asia in the shopping vertical on Android.
We built upon our already well-established regional residence in India and ranked fifth in finance and fourth in the utility group on Android devices – again, only behind self-reporting platforms.
In Latin America, we ranked third on Android devices in the shopping vertical in the IAP Index, which is a testament to how effective Appnext is in directing the most valuable users to our clients' apps. In the Retention Index, Appnext is ranked third in LATAM and is first overall among non-SRN platforms.
We scored a big win in gaming in Eastern Europe, having been placed eighth for hyper-casual games on Android and in the top four for lifestyle & culture and finance in the Retention Index.
Finally, our move into Africa has been a resounding success, with us racing up the charts to be ranked third in the Growth Index, meaning we are expanding at a record pace in this burgeoning and diverse market.
2022: Looking Ahead The successes of the past year reflect the hard work the global Appnext team puts in on a daily basis. We are immensely proud of how far we have come. Looking ahead, we are concentrating on innovation: this is what has and continues to define us. We will carry on developing the groundbreaking and transformative solutions that provide a superior user experience. This year and beyond, that means delivering hyper-personalization and improving the existing AI-based technology to do so. We plan on launching new vernacular consumer products that support regional needs, while such products will be integrated with our partners and developers to enhance the user discovery experience in even greater and more profound ways. As 2022 illuminates a bright path before us, we will continue to revolutionize the app industry.