App Valley Rocked! Key industry decision makers and entrepreneurs got together to learn, contribute, and take an active part in the conversation about the future of apps, because let's face it: it's not about growth anymore; usage hacking has taken over.
Each week, we are going to share one speaker's speech. To kick it off, we are starting with Elad Natanson, Appnext's Founder and CEO.
The way people experience apps and mobile as a whole has changed.

 
1. We Are Using Apps More Than Ever, But We Are Installing Fewer
If in 2013, we were installing 6.4 apps; in 2016 we were installing only 1.3 (depends on the specific report) but at the same time, the time spent within apps keeps increasing. The run rate of revenue spend generated by app developers is going to hit $60 billion.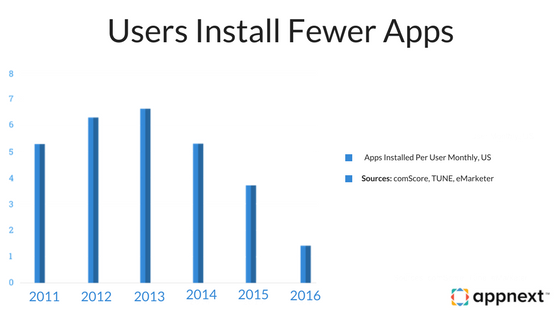 2. The Narrative Has Changed From 'Which Apps Am I Installing to Which Apps Should I Use?'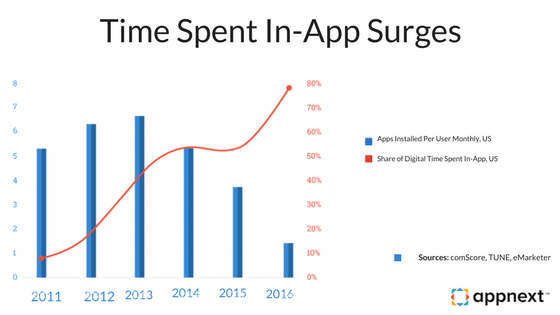 3. In Mobile, What Really Matters is Not Necessarily Who the User is but What's His or Her Timeline
What is he or she doing right now? What moments are best to target this individual user? The answers to these questions provides us a way to understand the users' behaviors, in order to serve them the right ad at the right time. We also know the time it will be best to re-engage a user, based on his or her timeline.
The Future According to Elad
In April 2017, he introduced Appnext Timeline. Appnext Timeline is a unique predictive technology used to understand the users' context. This enables Appnext to understand what type of services or apps the user would be interested in using next.
More About Appnext Timeline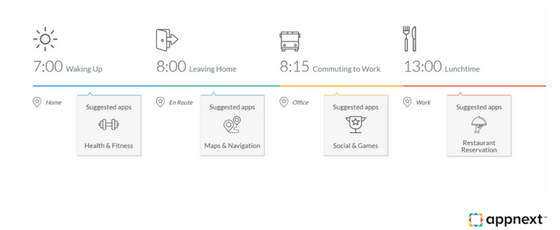 The Appnext Timeline technology is currently integrated in more than 5,000 apps around the world. It collects over a 100 different signals from each user (based on app permissions). With that, they are able to to translate these signals into moments. Right now, five months after the inception of Timeline, Appnext sees over 80 million daily active users' timeline.
4. Apps are no longer about a specific app's usage. They are more about the service itself.
People interact with their mobile devices hundreds of times a day: on their way to work, on vacation, out shopping, and more. There are countless indispensable daily actions made from mobile devices, which is why Appnext created Appnext Actions. It allows users to better experience life through their mobile. With every action users opt in, they receive search-like results of the best fitting apps, enabling them to make better choices faster.
With Timeline technology, Appnext is able to understand what services the user will be interested in using and enabling them to instantly use these services from every single app in the world.

5. Users are looking for seamless discovery and instant app usage.
Some of the industry's biggest players understood these trends early on and have created massively successful products. WeChat is one of these. It is one of the most popular messaging apps in Asia, especially in China and currently has more than 697 million active users. Last January, the company introduced mini-programs, aka as embedded apps. These apps require no download and no installation.
6. Content and services are set to be unbundled from apps and bundled into the platform's solutions.
To drive usage, it is important to understand when the potential user is most likely to use the app. Elad believes that in a year or two, we almost won't install any new organic apps.
"We will probably buy a new device, we'll probably install a couple of apps when we buy it, we'll probably customize it, maybe download a nice keyboard, maybe install our messaging apps. So from this point on, we'll be interested in using apps instantly and the real question is how do we find these apps is it Facebook Messenger is it our home screen device?"
Check back next week for more insights from AppValley!