In our latest addition to our App Valley Talks series, we sat down with Amit Raman, BYJU's-Digital Marketing Expert and Gal Raz, our VP of Global Business Development to pick their brains about the importance of personalized app discovery and how to reach the right audiences directly on their mobile device.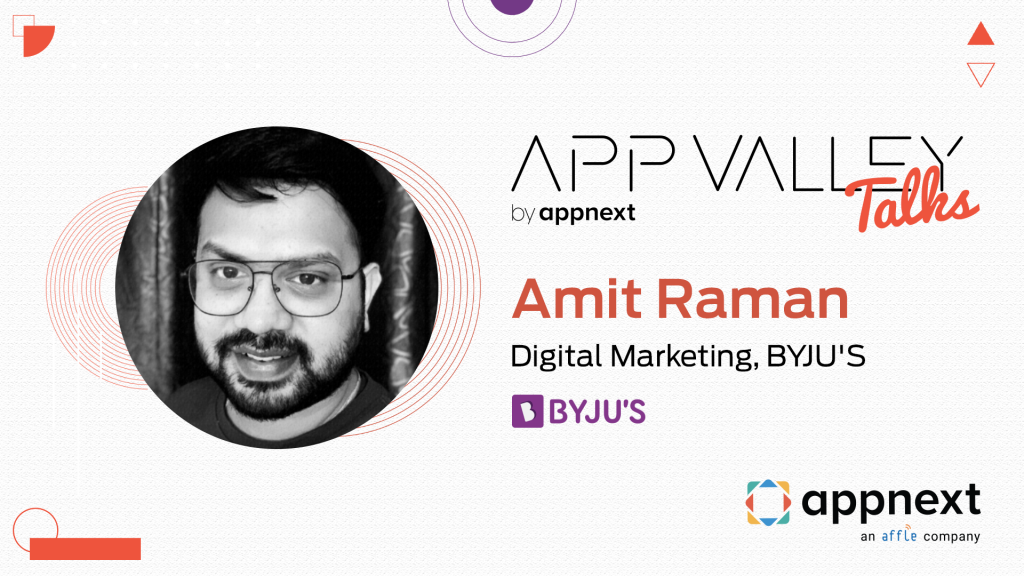 1. Tell us about BYJU's
BYJU's is India's Largest Online Learning Programme App, offering a perfect blend of engaging video lessons and personalized learning. The app is designed to help students practice, learn, and understand concepts in-depth in an easy-to-understand manner.
We have 100+ Million downloads, 4.7+stars app ratings and 1700 cities across the globe.

2. What is unique about your app compared to others in the industry?
BYJU provides personalized online tutoring programs with a unique two-teacher model. Every student has a personalized view, tailored to his/her interest, curriculum, and level. There are tests available wherein the students can assess their knowledge and do an online assessment.

Gal : Digital consumption has dramatically increased during the pandemic, what are the challenges you have been facing as a Digital Marketeer? Can you tell us about the situation before and after the pandemic?
Amit : With COVID-19, approx 1.2M students found themselves out of schools with a new reality of studying remotely on different devices. This has led to a boom in the Edu-Tech Industry. It was a huge challenge for us, as our MAU's increased by 4x and it was unexpected. We launched a few more programs, which got a positive response from the audience. We used video ads, banner ads, display ads and search to create awareness, and a mid and bottom funnel to get immediate conversions.
Gal : Can you share with us the average time the child is using the app before and after Pandemic.
Amit : Before Pandemic, the average time spent on the app was 45 to 50 minutes and it increased by 40% after Pandemic, which is 70 to 80 minutes per day. The MAU's increased from 4-5 Million to 10-15 Million.
Gal : You mentioned device-level discovery that you are interested in. At Appnext, we recently launched our keyboard experience, which is super unique as it supports different vernacular languages and is also contextual, which is the next step for app discovery to help app marketers reach the right audience. Can you share your experience with us for such new and unique Initiatives?
Amit : Right now , marketers typically use searches, social media and video ads to create awareness and get their app discovered. As marketers, we generally focus on the bottom funnel and once the product grows or matures, we also need to focus on the top and mid-levels. Search is one of the topmost inventory, which has higher conversions, so we too, follow that. We are investing in such unique Initiatives and getting good results out of them.
Gal : As a marketer, you would like to have more diversification and companies like us are thinking out of the box to enable you in a more innovative way to acquire valued users.
Amit : As a growth marketer, we try and research on more platforms like Appnext, which can add value to our Business.

Stay tuned for our next App Valley Talks episode!