There is no doubt that 2020 has been one of the most challenging years. When we look back over the last 12 months, it is impossible to ignore the scale of human suffering and economic destruction caused by the COVID-19 pandemic. However, as with any global shock, the impact on different industries has been uneven – and the mobile apps market was one of those to experience a boost.
The last year has strengthened our belief that the ethos behind Appnext when it was founded 7 years ago has never changed: finding the right app exactly when you need it is vital in our technological and interconnected lives. In 2020, more than ever before, we have become dependent on mobile devices to maintain our day-to-day schedules amid the increasing disruption to our everyday activities. From fitness to travel and from shopping to communication, apps have provided the solution.
This trend plays out when we look at the global consumer spending on Android and iOS, which hit a new annual record of $112 billion. Particularly encouraging to see is the huge growth for Google Play, which now accounts for over $40 billion of app store spending – up 30%. Compared to 2019, Android users spent 25% more time on their devices this year, clocking up 3.3 trillion hours globally.
In the mobile market the biggest winner emerging from the pandemic was, perhaps unsurprisingly, gaming. AppsFlyer reports there was an increase of 250% for non-organic installs of hyper-casual games, which it credits to interest from new players during the first COVID-19 lockdowns. This was part of a trend that saw "at home" activity apps dominate as more people were confined to their homes, according to App Annie. For example, fitness apps, which surged in popularity as gyms and health centers closed, are poised to see a 4-year CAGR of 23%. That figure rises to 38% for food delivery apps. Customer enthusiasm for the ease and simplicity of food delivery is unlikely to decline significantly as the world returns to normal after the pandemic, with restaurants expected to make delivery an important part of their business approach moving forward. Health and fitness apps will also likely enjoy continued success in the new year as companies keep their employees working from home. E-commerce experienced some of the sharpest growth amid widespread closures of shops and businesses. Predictions for total sales were revised by more than $100 billion, from $674.88 billion to $794.50 billion, as online sales skyrocketed.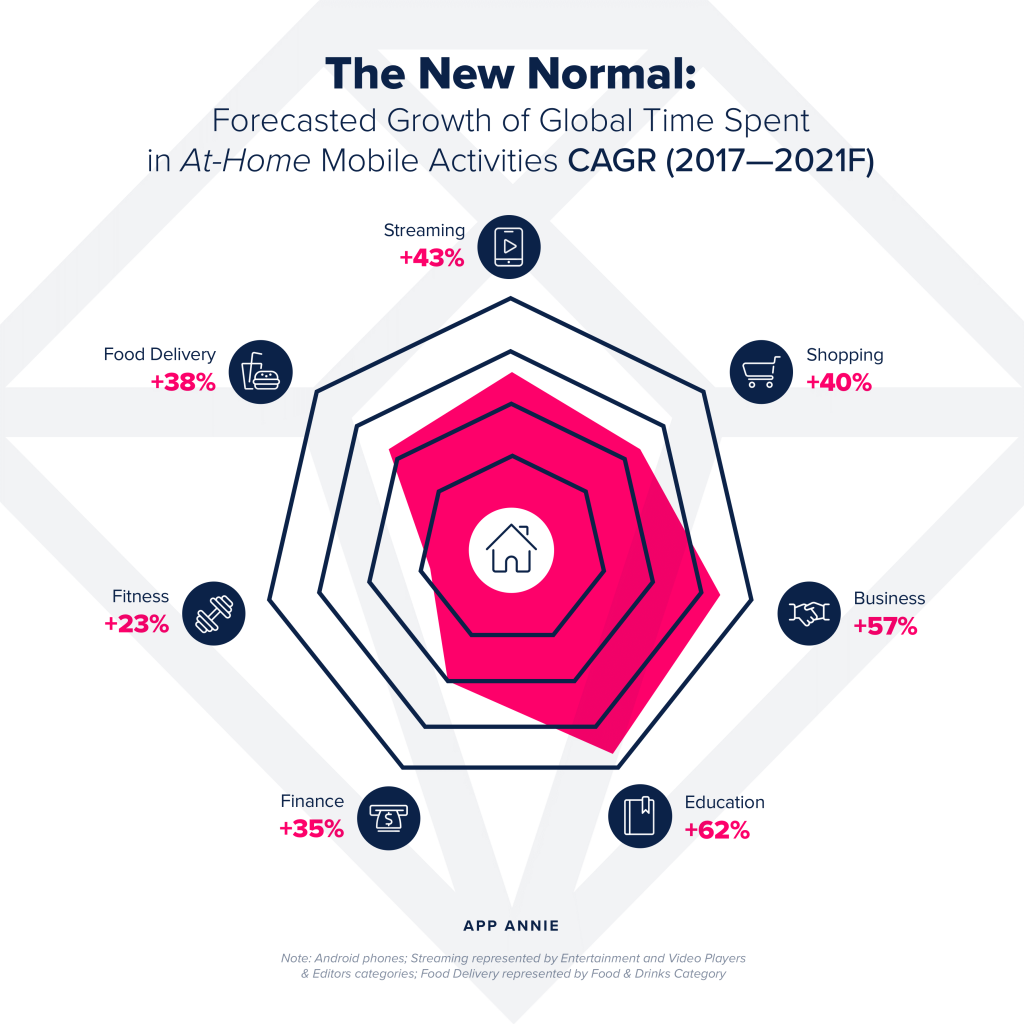 In 2019, we were proud to look back at the success of our OEM journey evolving from in-app discovery to revolutionary exclusive on-device placements. This year, we have continued to build on this evolution with the announcement of a partnership with global powerhouse Affle to build the #1 app discovery platform across India and SEA.
Another highlight this year was the opening a new office in Russia. Our physical presence will help scale the relationship with local app developers and support their growth efforts as we already see an increase of 80% in the number of active apps in Russia during 2020. We're looking forward to extending our reach and physical presence in Brazil and Europe where thousands of apps boost their revenue and users' growth by deploying Appnext discovery solutions. This has placed Appnext #14 globally in the AppsFlyer Performance Index for all app categories on Android alongside the world's leading publishers and OEMs.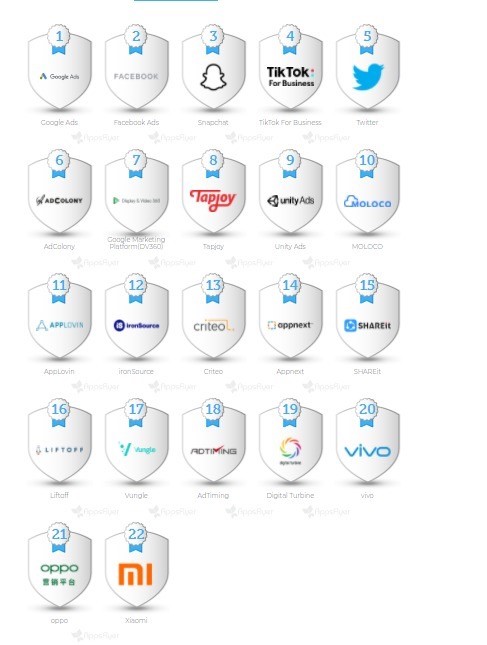 At the heart of new collaborations is, of course, innovation – the objective that has driven Appnext from the very beginning. Together with Affle, we became an investor in the cutting-edge Bobble AI Keyboard, an indigenous social keyboard that allows users to communicate and express themselves in more intuitive and personalized ways. Appnext owns monetization on all default Bobble keyboards on multiple Xiaomi devices in India and will expand to other regions, device manufacturers and mobile operators in 2021.
A big focus for us has been to drive organic discovery with our ORP (Organic Recommendation Program), which also launched to a brilliant reception in India in June. Appnext enjoyed a record year in the nation in 2019, with the platform behind more than 3.5 billion daily app recommendations. The 'Made In India' initiative supports the government's vision of nurturing India's indigenous app ecosystem by offering start-ups the opportunity to be included in our organic recommendations, which we have estimated to be equivalent to a $50,000 investment.
All of these achievements are as a result of Appnext demonstrating the uniqueness that has come to define us within our industry. We remain the only platform that allows app developers and mobile operators to continually engage users repeatedly throughout their day, with an average of 20 daily interactions with each user, in more than 40 countries worldwide. Globally, we serve 5 billion daily app suggestions within 10 thousand mobile touchpoints to 300 million daily active users. These numbers are set to rise even more next year.
Looking forward to 2021, we will continue to develop device-level discovery solutions, invest in market education and in providing transparent access to serve app recommendations. We will expand our touchpoints and implement an array of new discovery and monetization solutions to meet app developers, OEMs and operators' requirements.
We will continue to innovate and provide a wider range of effective app discovery channels to complete the mobile discovery journey for new and existing users.  Re-engagement will be integrated at the core user experience of our discovery recommendations so users will be able to discover apps and products they were already using and are likely to use again.
We will expand our ORP (Organic Recommendation Program) to thousands of developers that can enjoy a new and exciting non-paid discovery channel and offer a vast range of diverse services to our partners' users.
We will keep developing our platform with new targeting capabilities, adding new placements and creative level optimization to provide a better than ever self-served platform that allows a 360° view over a campaign performance, with full transparency and control of the activity with real-time insights.
It is difficult to anticipate what the next year holds for many industries, but what we do know is the mobile app economy will continue to grow. We will witness an increased demand for real-time mobile experiences and we are looking forward to continued expansion in 2021 as we focus on new and innovative app discovery solutions to meet this demand.
Best Regards,
Elad Natanson