The 2020 holiday shopping season is expected to be one for the record books, and in SEA, those records will be broken online. e-commerce is soaring in the region, especially as we approach Double 12, Asia's prominent December shopping event. Online shopping has boomed this year as a consequence of transformed consumer behavior, catalyzed by the pandemic, and this trend is predicted to continue well in 2021 and beyond.
SEA: A Region of Passionate Internet Shoppers, Especially on Mobile
SEA e-commerce has been steadily growing for several years, driven by several factors. Mainly; improved connectivity in the area, cheaper and faster mobile internet, more affordable mobile devices, a changing demographic in the region and higher per-capita disposable income.
SEA has the most engaged mobile internet users in the world. According to the most recent 2020 report by Google, Temasek and Bain and Company, there are 400 Million internet users in the region, of which 90% connect to the internet primarily through their mobile phones. In the past four years, active mobile shoppers have increased threefold from 49 Million in 2015 to 150 Million in 2019 (Maas). According to the report, the value of SEA's e-commerce sector is currently $38 Billion and on track to surpass $150 Billion by 2025 (Business Insider), spurred on by dedicated shopping festivals in the region such as 12/12.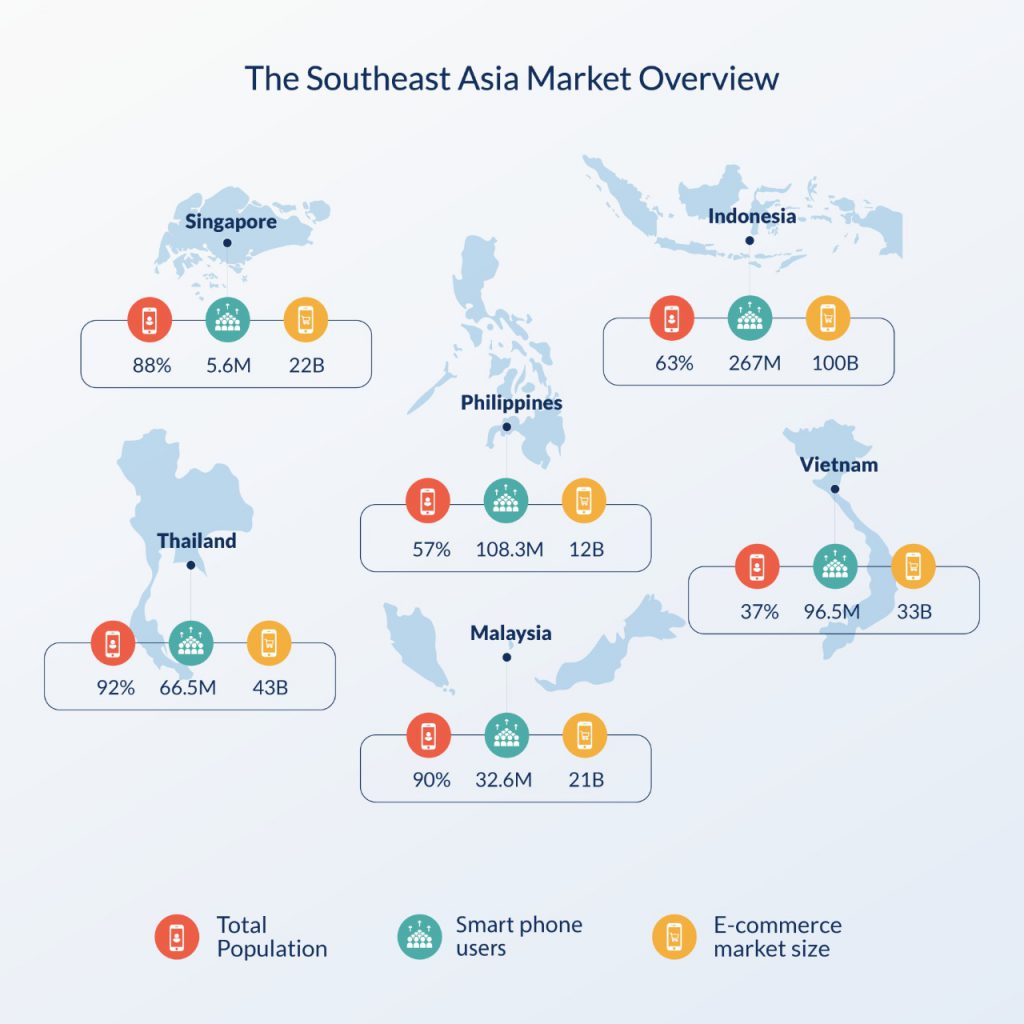 Summary of SEA 2020 Mobile Shopping Trends So Far
A recent state of the market report by AppsFlyer notes a boom in shopping app installs, share of buying users in shopping apps and increased e-commerce app install ad spend in APAC countries during 2020, both during but especially after the lockdown months.
One of the biggest spikes in time spent within apps is seen in SEA's rising tiger mobile economy; Indonesia. Hourly consumption of apps has grown by +40% in Q3 2020 compared to Q3 2019 there (AppAnnie). Shopping apps in Indonesia have surged by +29% in 2020 (AppsFlyer). This year, the expected YoY growth in Indonesia is a whopping 50%, reaching $35 Billion in 2020 from $23 Billion in 2019. 30% more new users have installed e-commerce apps, of which 40% will continue to use these shopping apps after the outbreak is over (Affle). The pandemic has pushed consumers to shift their long-term buying behaviors, and it's expected that mobile shopping this 2020 holiday season will far eclipse those of past years. 12/12 will be a bumper online shopping event like never before.
Interestingly, the report found holiday season consumers in SEA prefer to install familiar e-commerce apps, rather than marketplace apps, but all types of shopping apps have boomed this year, including marketplaces. Home decor shopping apps such as IKEA have profited greatly, due to novel work-from-home needs.
The 'Big Three' Shopping Apps of SEA Still Reign Supreme

Shopee, Lazada, and Tokopedia are still the lions of digital shopping across SEA. These e-commerce companies have grown in sales revenue collectively by more than seven times since 2015 (dksh). Their giant user bases allow them to run successful UA campaigns, and their mobile-first strategy reflects the high mobile internet usage in the region. They play a critical role in the rise of digitization and the shaping of shopping behavior in SEA.
SEA is a scattered region rather than a single market, and each country has very different e-commerce characteristics, challenges and demographics. One of the reasons for the Big Three's success across the landscape is their hyper-localized and personalized approach in each country, a strategy e-commerce app developers and marketers would be wise to follow for 12/12 and beyond.
Localization in Highly Differentiated SEA Market is Crucial
As well as localized marketing campaigns around specific festivals such as Chinese New Year or Double 12, these large e-commerce players should leverage consumer behavior data and AI to increase UA and user retention in SEA. The 'Appnext Timeline' is a patent technology that displays contextual and personal app recommendations within a myriad of apps and directly on-device, enabling app developers to reach high-intent, ready to buy users through innovative placements directly on their mobile devices. Moreover, recommended apps appear to the users according to their individual daily mobile journey; a next-level layer of personalization that's proven to convert.
Actionable Takeaways For This Year's Double 12 and Beyond
Due to the surge in app installs this year and the comparatively low rate of user retention, effective remarketing strategies are essential this holiday shopping season. Capture online shoppers ready to buy by localizing deals and personalizing promotions wherever possible.
Ensure a diverse set of payment options are in place to cover specific country-level needs and make sure content this year hits a sensitive tone considering these troubled times. To really get noticed this 12/12 in an oversaturated app landscape, get your app recommended in the best possible places with Appnext.