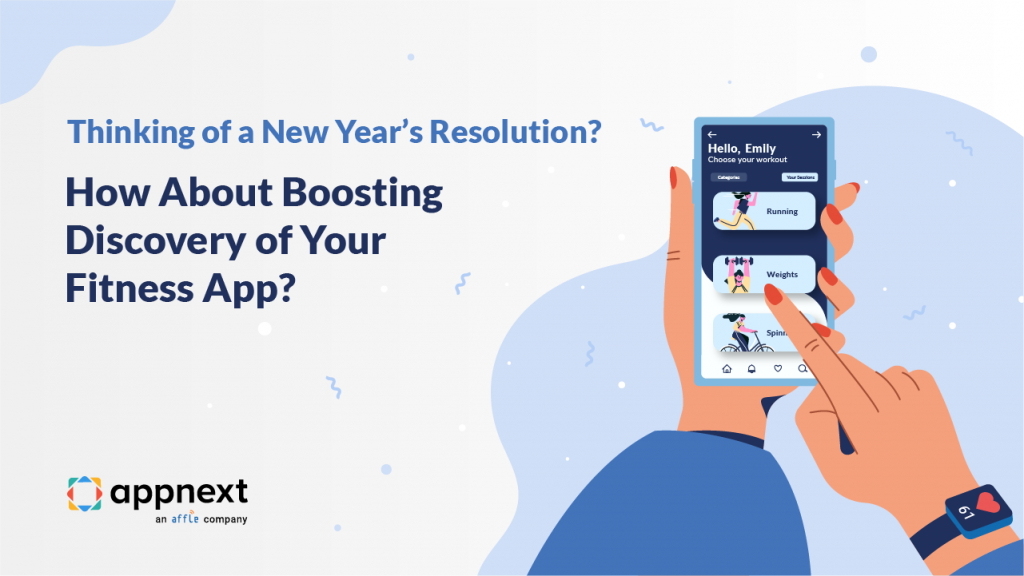 It's January, and for billions of people across the globe that can only mean one thing: it's time to get more active, lose weight and improve your state of health.
It's certainly true that every January global downloads of fitness apps rise as people make New Year's resolutions to improve their health – and this year is likely to be no exception.
In January 2020, New Year's fitness resolutions drove smartphone users to generate roughly 16.3 million downloads of the leading workout apps, while January 2022 saw almost 17 million downloads of apps in this category.
So if you want to get your fitness app in front of a global audience of exercise-hungry smartphone users, now couldn't be a better time.
Fitness apps really began to take off when the pandemic hit in 2020: with gyms and health clubs closed and social distancing in place, people all over the world turned to apps to help them maintain their exercise regimes at home.
Although going to the gym and group exercise are now back on the menu, using an app to aid your fitness goals has become the norm for many, and the fitness app market is continuing to grow.
The global fitness app market size stood at USD 1.1 billion in 2021, and grew to USD 1.3 billion by the end of 2022.
Predictions are that it will continue to grow at a compound annual growth rate (CAGR) of 17.6% to reach USD 4.8 billion by 2030.
The US remained the key market for health and fitness apps in terms of consumer spending during 2022, controlling more than half (51.7%) of all spending across the App Store and Google Play, according to data.ai's State of Mobile 2023 report.
Eight of the top 10 apps by consumer spending in 2022 are based in the US, including each of the top three (MyFitnessPal, Fitbit, and Calm).
Looking at which countries in the world downloaded the most health and fitness apps in 2022, India accounted for 11.1% of a total download share for Asia of 22.9% (see graph below).
The continent with the highest share of downloads in 2022 was Europe at 45.4%, while North America came in at 15.4%.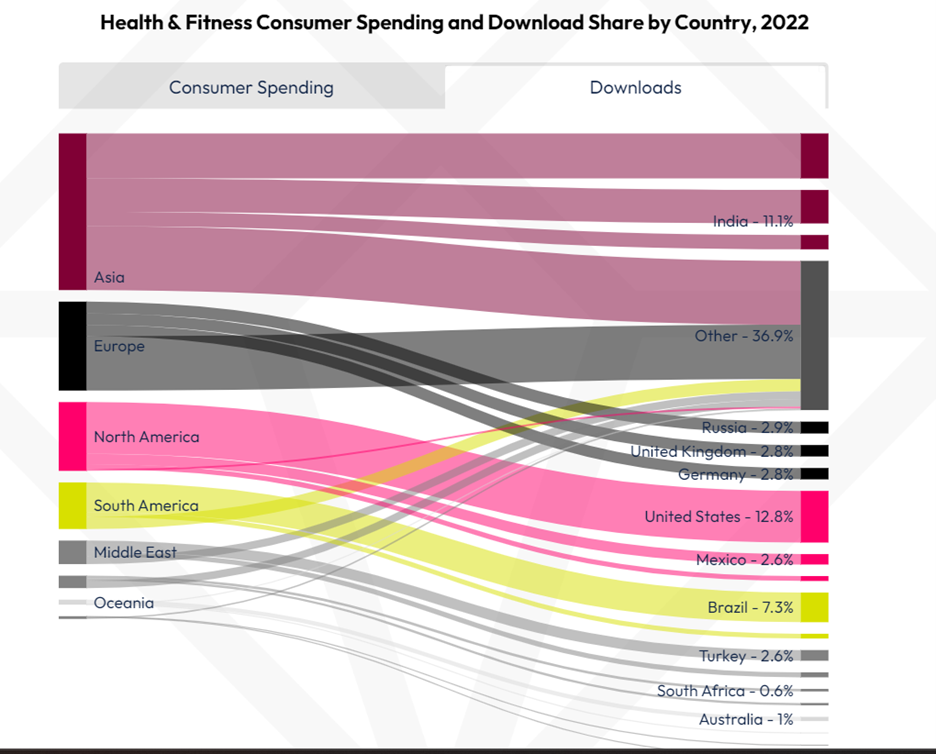 Source: data.ai Intelligence
Health and fitness apps certainly offer many benefits to consumers which should ensure their continued growth: convenience over gym memberships, the cost saving on personal training and membership fees, lack of equipment needed, user-friendliness, and the ability of app publishers to increase both quality and quantity of available in-app features.
Of course, fitness apps don't just help users to do workouts at home, they often combine health monitoring features too, such as blood pressure and pulse measuring, and weight loss tracking.
These apps utilize machine learning, artificial intelligence, and other technologies to offer personalized fitness plans and diets to their customers, even monitoring daily calorie intake to a macronutrient level based on user feed data.
Often they can be connected with wearable devices such as smart watches to track health parameters, monitor sleep and record activity, and this is an area which is certainly on the rise amongst all age groups.
Asia-Pacific is expected to be the fastest-growing region for fitness apps, with the market expanding at a CAGR of 23% to reach USD 10,955 million by 2030.
This is being attributed largely to the increased affordability of smartphones, meaning more people are using them to access various fitness programs on the go.
Indeed, according to the Mobile Economy Survey 2018, smartphone penetration globally is projected to increase from 57.0% in 2017 to 77.0% by 2025.
In 2017, JMIR mHealth and uHealth published a study that found that 45.5% of the sample size (in terms of population) used fitness apps on their smartphones.
In Europe, the fitness app market is also expected to grow significantly between now and 2030, reaching USD 8,755 million at a CAGR of 22.4%.
The market growth in Europe is as a result of rising consumer demand for fitness apps, driven by increased knowledge about healthy lifestyles, and the expanding number of fitness centers and clubs.
The global fitness app market is divided into three segments: exercise and weight loss, diet and nutrition, and activity tracking.
Exercise and weight loss dominated the fitness app market with a share of 54.8% in 2021, thanks to an increasing number of people seeking a health-conscious lifestyle and the desire for continuous health assessment.
Activity tracking – dominated by leading brands Jawbone, Fitbit and Nike – is now the fastest-growing segment in the market, predicted to reach a value of USD 9440 million by 2030 at a CAGR of 23%.
When it comes to platforms, the global fitness app market is categorized into Android, iOS, and others, with Android expected to be the fastest-growing platform between now and 2030.
Due to increased adoption of smartphones globally and a rapidly rising number of android users specifically, the Android market for fitness apps is predicted to reach a value of USD 19,005 million at a CAGR of 22.7% by 2030.
Leading fitness apps available on the Android platform include MyFitnessPal, Google Fit, Sworkit, Runtastic, and Leap Fitness.
Clearly, the fitness apps space is becoming increasingly crowded, so you'd do well to partner with a discovery platform like Appnext to help drive traffic to your app.
Today's fastest-growing mobile discovery technology company in emerging markets, Appnext has partnered with leading mobile carriers and android OEMs such as Oppo, Vivo, Samsung and Xiaomi (which have a combined worldwide market share of 48%).
Appnext's proprietary behavioral analytics technology displays contextual and personal app recommendations according to the user's behavior and intentions.
So recommendations for fitness apps can be presented to users directly on their mobiles across various placements, from the minus 1 screen to folders and widgets, at relevant moments throughout the day.
If your New Year's resolution is to make sure more people discover and download your fitness app, Appnext can help you achieve that goal.