Something great is happening at this very moment. We're launching Appnext Timeline, the next-gen user intelligence and targeting technology that will mark the end of the Ad-Tech "stone age" and start a new era.
Challenging the Industry status quo
Appnext Timeline is going to shift the focus from profile and ad views to real-life user context, concentrating on relevance, engagement, and user experience. In the past few years, the Ad-Tech industry made substantial progress in regards to user intelligence capabilities, enabling marketers to understand who their ideal users are (by demographics, geo, etc.). For example, a marketer behind a taxi app knows multiple parameters about different user segments. As a result, users are bombarded with ads that might be accurately targeted to their demographic profiles but are close to irrelevant for the current moment throughout their day.
Appnext Timeline – Mobile in Context
Appnext Timeline leverages location, real-time and historical behavioral patterns to understand the unique immediate context of a user and predict the action he/she is likely to take next.
How?
Appnext Timeline technology recognizes over 100 device signals and translates them into personalized user timelines, identifying the location (e.g. home, work, abroad), and dozens contextual moments the user is experiencing in real-time (waking up, listening to music, commuting to work, using public transportation and more).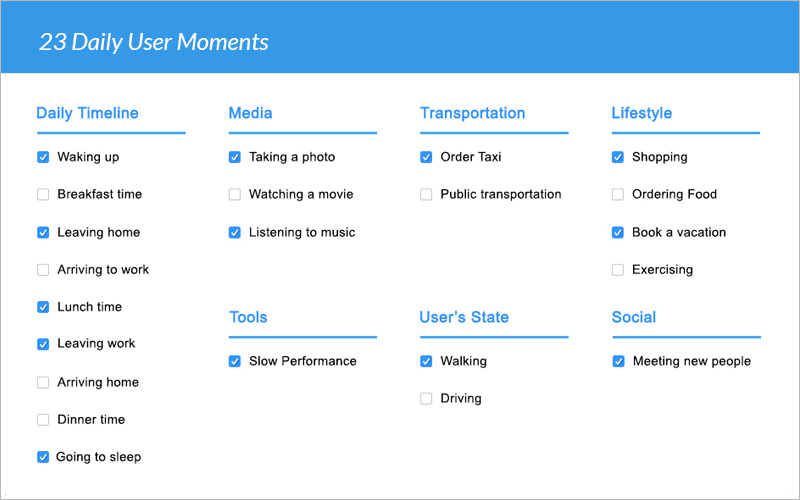 Finally Targeting with Context
Appnext Timeline allows marketers to focus their user acquisition, re-engagement campaigns, and budgets on the contextual moments that are likely to generate the most impact and engagement. Reaching a user with a promotion for a taxi app when he/she is about to leave the office, or traveling, enables marketers to focus on immediate engagement, while publishers can efficiently manage their premium inventory, maximizing user value and revenue for each ad impression.
Appnext Timeline was created to bridge the gap, enabling mobile publishers app marketers and users alike to step into the new era powered by real-life context, relevance, and ads that provide value and serve users real-time needs.
Our team will be discussing the Appnext Timeline at the Mobile World Congress from February 28th – March 2nd. Make sure to visit us at Hall 8.1, booth #E10. Or learn more about Timeline here. We can't wait to see what this new Ad-Tech era will bring and neither should you.