MWC is the most important yearly event for Mobile and is growing year over year. It is the milestone for all related announcements from big companies as well as small ones, demonstrating the innovative solutions they have been working on over the entire year.
This year's MWC theme describes the powerful combination of flexible high-speed 5G networks, IoT, AI and big data: "Intelligent Connectivity marks the beginning of a new era of highly contextualized and personalized experiences, delivered when and where you want them." This theme integrates beautifully with Appnext's vision of helping users discover the most relevant apps along with their daily mobile journey specifically when they intend to use them.
5G was prominent at MWC19 and it was exciting to see a glimpse of that new world, with 5G-enabled handsets launched. Xiaomi Mate X Not only has 5G connectivity, but it also comes in folding design shape.
Samsung announced the Galaxy S10, Galaxy S10 Plus, Galaxy S10e, Galaxy Fold, Galaxy Watch Active, Galaxy Fit and Galaxy Fit E, and launched a refreshed line-up of its mid-range A series of devices.
LG has revealed an accessory for its new LG V50 ThinQ handset – a clip on clamshell case that also doubles up as an additional, full-sized screen for the phone.
Sony thinks the future of the mobile display is with 21:9 ratio screens. Along with the flagship Xperia 1, Sony has revealed a whole range of 21:9 phones at MWC 2019.
Microsoft revealed a new version of the leading mixed reality headset HoloLens 2, this time featuring a more comfortable design and improved optics that track where your eyes are looking for a more immersive, reactive, augmented reality experience.
The Xiaomi Mi 9 launched in China just a few days before MWC, and we got to see it in the flesh, along with a revamped 5G version of the Xiaomi Mi Mix 3. Aside from phones, Xiaomi also unveiled its new Mi LED Smart Bulbs that can be controlled with either the Mi Home iOS and Android apps, or Amazon Alexa and Google Assistant.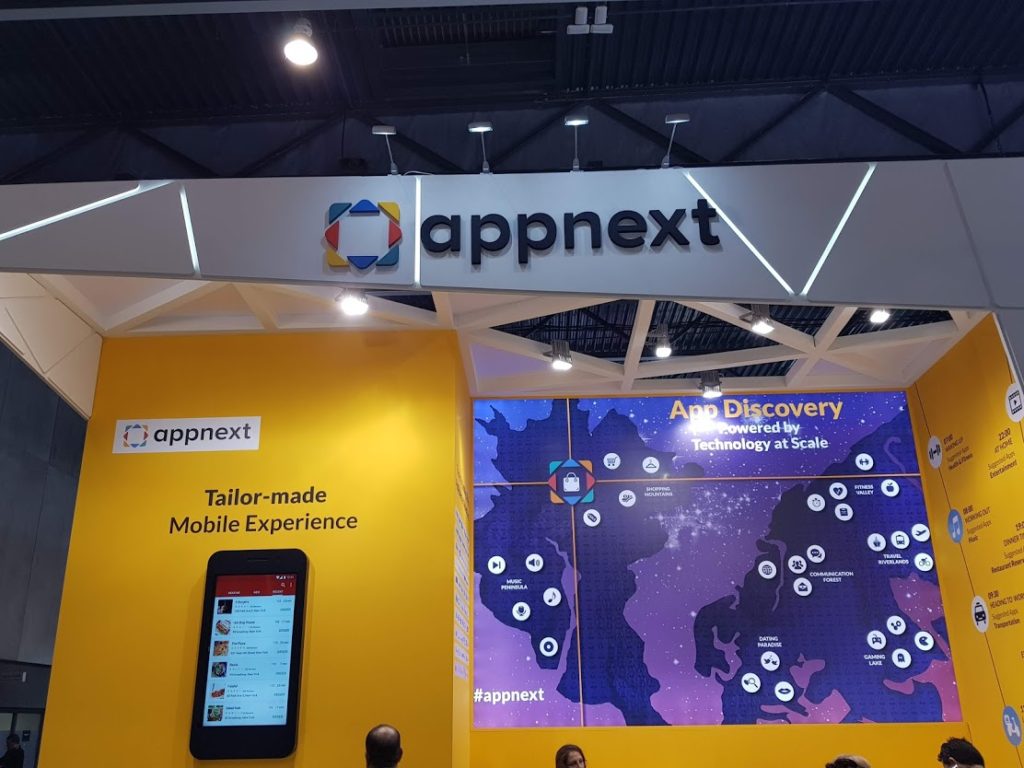 As every year, Appnext had a busy and productive MWC. Our team met with leading OEMs and mobile operators, as well as app developers and advertisers, demonstrating how Appnext powers a unique mobile experience across multiple touch-points, helping users to discover apps and services on mobile, evolving from in-app to on-device experiences, making users more engaged and loyal.
This year we announced multiple partnerships with several top 10 Mobile Device Manufacturers, reflecting hundreds of millions of mobile users who are served with targeted app recommendations. These integrations are already live and demonstrating impressive performance coupled with high user engagement.
This event provides a great opportunity to meet and network with global top mobile experts and discuss best practices on what is next for the future of mobile and the opportunities ahead.
See you at MWC 2020.