Audience retention for mobile apps can have a strong impact on ROI. App developers spend a considerable amount of time and resources trying to acquire new users that have never used their apps before, but re-engaging existing users can be a cost-effective, savvy way to get your existing audience excited about using your app again.
As an app developer, you know that retention and engagement rates matter and that the number of downloads is not the only important KPI when determining ROI. In fact, MobyAffiliates claims that 1 out of every 4 apps that are downloaded to a device are never even opened, and over 20% of users will abandon an app after just one use. This is why it's critical to keep those that have downloaded your app engaged and excited about what you have to offer them.
A few ways you can re-engage your existing app users and drive even more sales from your apps are included below.
01 Cost Per Sale Campaigns
CPS Campaigns, or Cost-Per-Sale campaigns, are a low risk, low investment strategy that can re-engage app audiences and drive more sales from your app. While the Cost-Per-Install model focuses on using ads to drive app installs, Cost-Per-Sale campaigns focus only on the actual sale or conversion that comes from each click, meaning that leads are only paid if the user adds payment info and completes a transaction.
For app developers, this means your campaign would place ads and only pay for them should the ads be entirely effective. The advantages of utilizing the CPS model are:
Leads are fully qualified before they are paid for

Brand awareness is built at no cost to the advertiser (unless a conversion happens)

This strategy is usually very low cost and low risk
The cost per lead from Cost Per Sale ad campaigns may be slightly higher, but these campaigns result in a low-risk, high ROI solution for re-engaging app users.
02 Strategic Push Notifications
One of the easiest ways to re-engage your audience is through the strategic use of push notifications. Push notifications allow you to reach your audience from outside your app and can help encourage users to open your app. While engagement rates vary depending on your industry, a well-timed, targeted push notification can have up to a 40% engagement rate, compared to a 15-20% engagement rate for email campaigns.
It's important to be smart about what and how often you push out to your audience. Too many notifications or notifications that are ineffective and not compelling to the user will result in your user ignoring the notification, getting annoyed with your app, or blocking notifications from your app altogether, hindering the success of any future re-engagement.
Additionally, make sure that you are segmenting your users carefully so that they only receive push notifications that are relevant to their habits and preferences. Sending a push that isn't relevant to your user will reflect poorly on your engagement rates.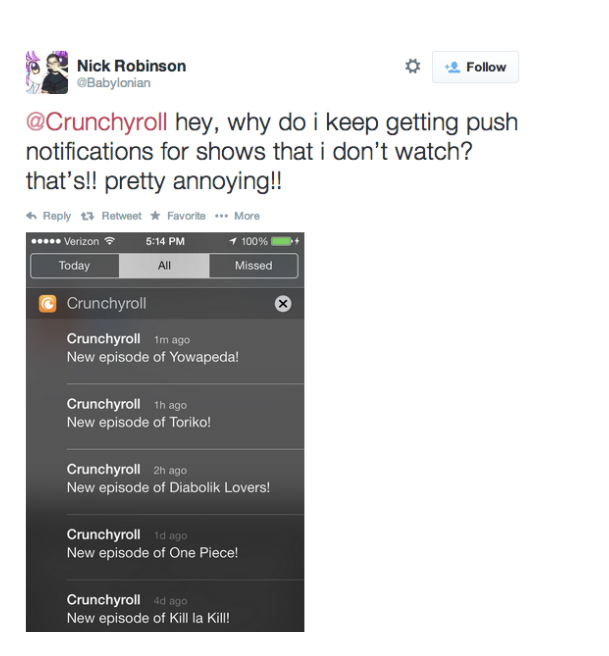 Personalizing your push notifications as much as possible will ensure that your users are excited to re-engage with your app.
Using data-segmentation to learn about your audience and serve them messages that are relevant to them is the best way to re-engage dormant users and get them excited to return to your app.
Some apps using well-placed push notifications to re-engage include:
Grubhub
Grubhub is known for taking into account the user's previous uses and information and using it to create a targeted, customized message. Around 6pm (most people's dinner time), Grubhub pushes witty phrases and uses past order history to craft a message that the user can relate to and that makes them want to open the app again. The app also offers push notifications to track orders, duplicate a previous order, and review the restaurants associated with past orders.
During peak ordering times (such as the Superbowl), Grubhub pushed a notification to its users to remind them about a fairly new feature: preordering for Game Day. This ensured that Grubhub was on the forefront of its users' minds during the Superbowl and ensured that ordering food from the app was not an afterthought. This is a fantastic way to use push notifications to re-engage previous users and get them excited about using the Grubhub app.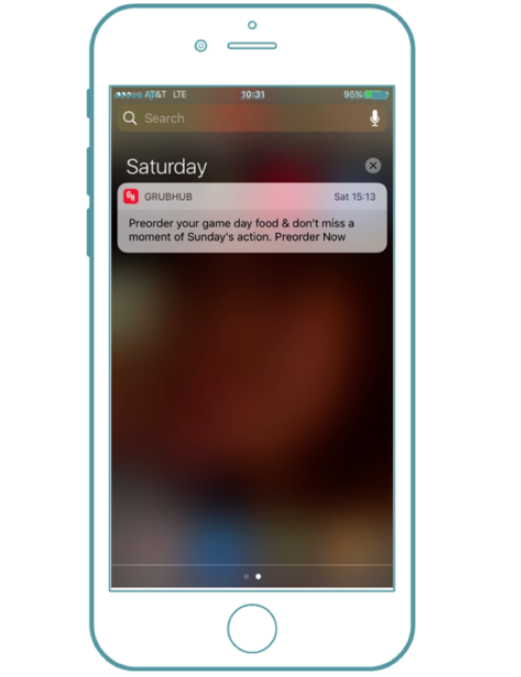 Podcast (Apple)
Apple is pretty darn good at knowing the perfect time to push notifications to re-engage its users and get them to use the app, and the Podcast app native to Apple is no different. Podcast analyzes past listening behavior and lets the user know when creators of podcasts they have listened to before release new podcasts. By alerting users to new media they may find interesting or exciting, Podcast re-engages users that might otherwise not have opened the app at all.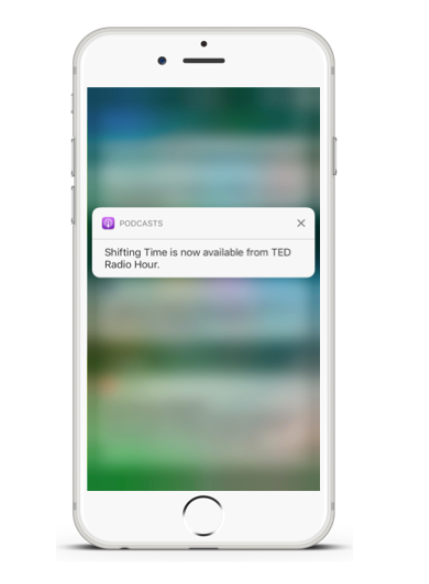 03 Personalized Email Campaigns
After well-timed push notifications that are based on the user's previous actions and/or preferences, well-targeted and personalized email campaigns have the potential for some of the highest engagement rates possible. Email campaigns are an excellent way to reach out to your audience if they haven't responded to your push notifications or if they have previously turned push notifications off. Email campaigns have, on average, a 20%+ open rate, and while this number can fluctuate based on your industry, email campaigns result in some of the highest engagement rates in marketing.
The content of your email should be both attention-grabbing and carefully personalized to the user's previous behaviors. A great example for re-engaging app users is the "We haven't seen you in a while" email. This email type is meant to remind the user of the benefits your app used to deliver to them, and give them a bit of a fear of missing out on those benefits if they don't return to your app.
Timing your personalized emails with updates or changes to your app can strengthen re-engagement rates by giving your users a reason to come back. Give your audience a preview of the latest features of your app, showcase improvements and updates, and invite your users to come back to check out the newest changes. If possible, include a discount or promotion to incentivize the user to reopen your app even more.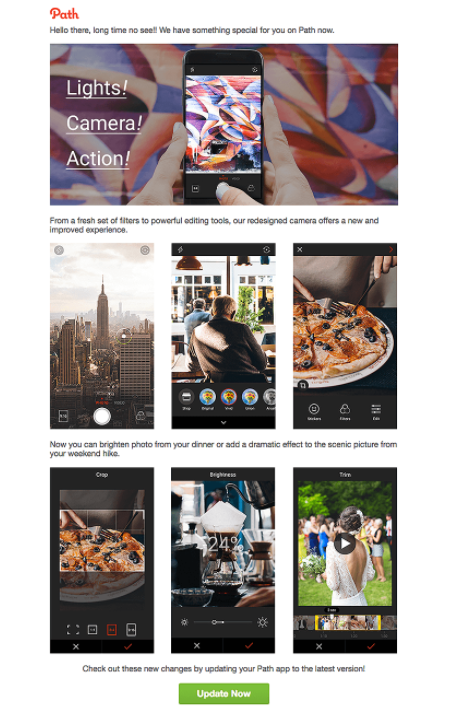 04 Deep Linking
Deep linking is especially important when re-engaging previous users and encouraging your audience to come back to your app. Deep linking is the concept of sending users to a specific landing page or screen within the app itself, rather than a web-app or online store. Deep links will allow your app to open on your user's device if they have it opened already and will ask the user's permission to open the app if it is not already opened. If the user does not have your app downloaded, they will be taken directly to your App Store page to download and continue on to the deep link you have provided.
Deep links allow you to send a user directly to a targeted, engaging landing page within the app and provides a better user experience for your audience. It can help you persuade your users into taking the desired action and can be paired with other incentives and marketing strategies (such as retargeting methods) for the best results.
You should do research and plenty of testing to ensure that your deep links are firing correctly. On Android devices, you may run into fragmented browsers that can cause issues with deep links. On iOS, you need to know if your users are on iOS 8 or below – iOS 9 saw the advent of universal linking, which functions very differently and currently only works in Chrome and Safari.1
05 Interacting with Users
Gamification
Gamification is a key tactic used in most in-app experiences to encourage users to keep using the app and eager to proceed to the next step. Keeping your audiences engaged through the use of gamification and tactics to get your audience hooked on using your app can be a great way to re-engage dormant users. Game mechanics keep your audience using your app, and rewards at each level of use encourage users to continue to proceed forward.
Using the concept of rewards and incentives to drive app engagement can help you reach new audiences and re-engage existing users. You can combine gamification with other re-engagement tactics, such as push notifications and deep linking. Once users are back in your app, give them a reason to keep coming back.
A great example of using gamification to re-engage an existing audience is Starbucks' holiday gamification campaign. Starbucks knows that the more a user feel incentivized to keep opening the app, the stronger their retention rates will be. With an already-strong app community, Starbucks ran a promotion that allowed users to collect points and earn a chance to win Starbucks for Life (as well as a few smaller prizes, such as free Starbucks for a month, 1000 extra bonus points, etc). The only way to participate was to complete a purchase in-store using the app, and the user was rewarded for taking less-common actions that were possible on the app, such as pre-ordering via the app, purchasing more than one drink at a time, and purchasing merchandise in the tore. This re-engaged users and also made them excited to reuse the app again and again, as well as incentivized them to take actions they may not have otherwise taken.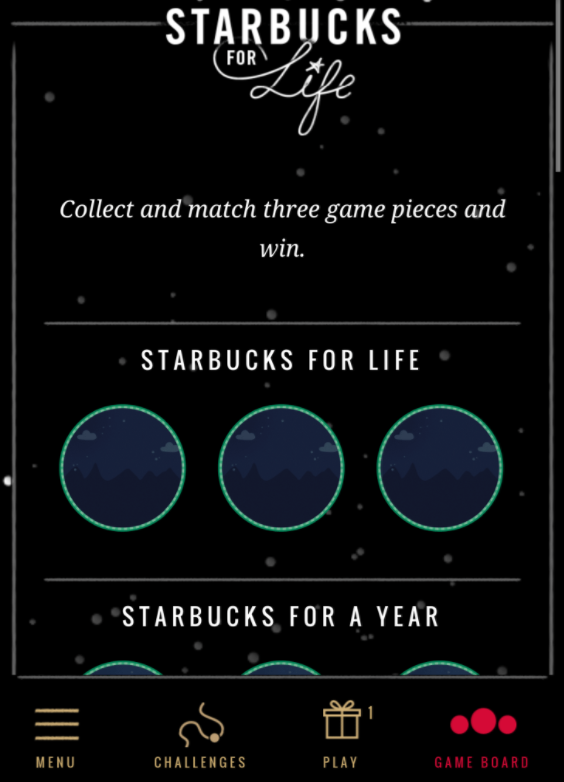 06 Re-Connect On Social Media
Reconnecting with your existing audience on social media can be an excellent way to re-engage existing users and continue to curate a strong, engaged social community around what you have to offer. A regular, consistent presence on social, combined with the use of targeted messaging and the usage of deep links to send users right into the app, can keep your app on people's minds and encourage them to re-engage with your app once more.
Humor and social media go hand in hand, and using good-natured humor can be refreshing and entertaining to your audience. Poking fun at existing technology strains or current events helps your brand stay relevant, so show that your brand understands these strains and events and have some fun with your social community!
Re-engaging with your existing audience app audience and encouraging them to use your app again is a difficult but important process that can have big impacts on your bottom line. Do you have other Re-engagement tactics to encourage users to use your app? We'd love to hear about them!
For more information on how you can start CPS campaigns with Appnext contact us today.