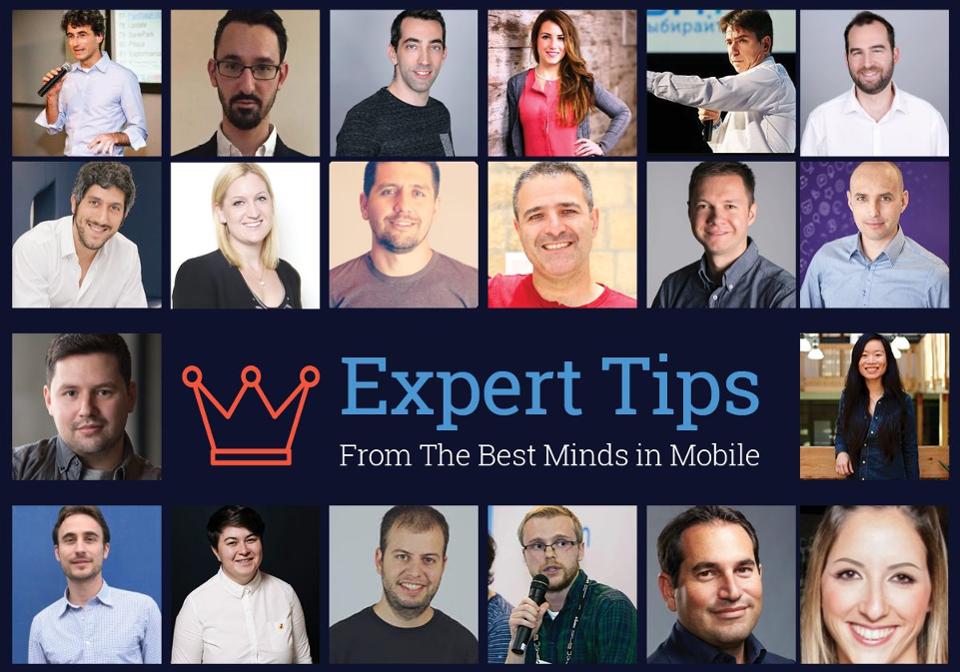 This article was originally posted on forbes.com 
We're continuing to say goodbye to 2017 and welcome 2018 by giving you, my loyal readers, yet another end-of-year treat! I have gathered some refreshing and thought-provoking tips from leading mobile experts such as Foursquare's Steven Rosenblatt, Taboola's Adam Singolda, Ozon's Danny Perekalsky, Viber's Moshi Blum, Leanplum's Momchil Kyurkchiev and many more.
This is a shortened version of the tips because we had so many good ones! The full version will be shared in a few weeks, so stay tuned.
I believe this list will help you understand what the mobile industry is up to and what the best ways are for all of us to grow and make better apps and services for our users. Enjoy!
Steven Rosenblatt, President of Foursquare
"With new innovations in tech, there's an ever-increasing amount of data available for local and national marketers alike, but not all data is created equal. What marketers choose to leverage in our data-heavy world can greatly impact their business' bottom line. I predict that in 2018, marketers will turn their focus towards data quality and hold their data partners and providers to higher standards and increased transparency to ensure fresh, first-party (opted-in) data that drives meaningful consumer engagement and better business results. Marketers will move past vendors throwing out big numbers and verify whether a company that is shouting out numbers can actually back it up."
Adam Singolda – CEO & Founder of Taboola
"Make it easy, don't force them to search for your app—once users discover you, give them a button they can click on after reading your article, or link to your product for a clear and easy way for users to download.
According to eMarketer, for most brands, nearly 50 percent of their app users (or potentially more) aren't driving the value they could be. To change this, the industry needs to understand which users can provide more value and target them—but app providers have to be able to track success, or the actual value will stay unintelligible."
Moshi Blum, User Acquisition Lead, Viber
"Always track you incremental value from user acquisition (UA) activities- Many advertisers focus on paid growth and ignoring the organic impact, some campaigns that generate positive results are all about re-attribution your potential organic traffic or impacting other sources in your UA sources portfolio. Only by looking at the holistic picture, and analyzing the total predictive growth, you will be able to determine if the specific activity is driving incremental positive growth to the application."
Danny Perekalsky – CEO Ozon
"Last Mile – The user is getting used to receiving everything in a flexible and quick manner. The improvements are so fast in this industry – You have to supply the ordered goods quick, from several days to several hours. Be quick and swift and keep your promises to the customer."
Tim Levin, Head of Marketing Russia, BlaBlaCar.ru
"In 2017, mobile fraud issue is becoming more and more important. Fraudsters are inventing new ways and become more creative. It is an always on cat-and-mouse game that costs marketers millions of dollars. In-app traffic becomes more competitive and expensive so 2018 will be a year of indirect marketing channels like ATL and influencers."
Bobbie Gersbach-Smith, ANZ Director, M&C Saatchi Mobile
"Don't underestimate the value of the 65% of downloads that are initiated from app search. Refine your app's listing in the App Store and Google Play to make sure it's being found and adopted by your most valuable customers. Make sure that App Store Optimization is a central part of your app marketing strategy."
Shoham Lashkar, Director of ASO, Ilyon
"Measure conversion ratios (CVR) according to a marketing channel – Comparing them would be wrong to start with – User acquisition CVR and organic CVR are different measuring elements you need to track and not compare between, mainly because of the difference between the two : a) The way users are exposed to the app page is different ( ad / free search ), b) the way they see the app page it self ( linked directly to it /or viewing it among other apps), c) the different behavior of paid VS organic user ( by the way consumer/ active searcher)."
Alexander Ruban, UA Lead, Pixonic
"Allocate 10-20% of your budget for experiments – they'll help you see clearer when you hit a potential roadblock. Be ready to fail, failures will help you create a better marketing strategy and prove your hypotheses. Keep calm and do new tests."
Speeding up feature releases through Release Trains – "Your team can have incredible product ideas and awe-inspiring UI/UX designs but without a quick development cycle your app users may drop off before those ideas come to fruition. Mobile teams are moving away from agile and toward 2 week release trains to iterate quickly. Make sure your development cycle is efficient so you can save time and deliver your ideas to your customers faster."
Varvara Semenikhina, Head of Marketing, Yandex Music
"Leverage the power of partnerships and co-marketing programs. It might sound counterintuitive, but app marketing is by far not only about media buying and performance marketing. I'm a big believer in marketing partnerships. As everything in marketing, it's all about the user's journey and the context under which he/she uses your product. For example, music services are most used while en route, and in this regard, finding the way to collaborate with a taxi service was a great way for us to get more users while offering an additional perk to the existing ones."
Momchil Kyurkchiev, CEO and co-founder, Leanplum
"Monitor web activity for an omni-channel experience – There's no better way for brands to engage with consumers on a 1:1 level, in real-time, and drive deep engagement, than via mobile apps. That said, converting customers in-app can be tricky.  If there is a web experience that complements the app, it's common for users to interact with items on the app, but to make final purchases on the web. When this occurs, you don't want the shopper to receive a push notification about an item they already purchased — that's not a great user experience. Instead, partner with a platform that allows you to draw from web activity and tie to in-app messaging — resulting in a more positive, holistic user experience."
Jonathan Raveh, Director of Monetization, CallApp
"Diversify to a certain limit– When it comes to ad monetization, there's virtually no limit to the number of integrations you can do, as well as the types of integration. More often than not, one of your front runners will be either Facebook or Google, however – putting all your eggs in a single monetization solution's basket is the last thing any app developer should do. Test your options, choose your leaders according to data, and then setup a list of additional niche/geo-focused/ad-format focused monetization sources to compliment them to harvest those remaining 10-30% ad revenue."
Amit Golan, CEO and co-Founder, Loco Travel
"Don't confuse your target KPI with leading indicators. If your current business goal is generating revenues, then installs, traffic and engagement are simply means to an end; if people don't end up converting, you really shouldn't be celebrating a mere increase in usage."
Michael Weiss, co-Founder, BiteMojo
"Persistence is the only thing matters – Adjust, change, redesign, but always keep moving forward. 99% of startups fails, so enjoy the way – you are not saving the universe from distinction, put things in proportion and enjoy the road not less than the destination."
Ben Froumine, Founder, Roomer
"Travel tip 1 – Before booking your hotel room, don't be a fool, always check to see if someone is selling those exact dates and identical hotel room you are about to book… but for half price…
Travel tip 2 – flying low cost out of London? Don't confuse LTN, LHR, LGW…I did that. #notfun."
Yuval Weinbaum, Co-founder & CTO, Ubeya
"Push notifications are a great tool to increase mobile engagement (85% of users find notifications on mobile useful). Use customer insights to make sure your notification are personal, location-based technologies to make notifications more timely and relevant, and deep links to make notifications more actionable. About 75% of app users churn within the first three days of usage, so avoid cumbersome on-boarding flows and make sure your users understand the value of your app and how to use it."
Chiara D'Ambra, Sr. Director Global Supply, Headway
"Beyond CPA – Deeper focus on LTV and User Loyalty – In 2017, we've seen app developers were not only focused on simple user acquisition but on user engagement with clear post-install activity check from specific audiences. This trend will keep going up for the next years and become even more critical in the long run. So, advertisers – Start considering to measure the long term loyalty of the users to your apps."
Uri Lichtmann, Supply Management, Jampp
"It is important not to take creatives for granted. They are key tool to reach potential users and they are often poorly prioritized on the campaigns optimization.Gifs, video ads provide a richer experience for the user and tend to get more attention. The actual ad shown is as important as the placement where it is shown so our best practice is to test different variations and optimise them to improve results."
Juan Varotta, CEO of Mottnow
"With the amount of ads being served to users daily – Creative A/B testing is key to break through and enhance user acquisition efforts. The results may be surprising but the answers are all in the data analysis."
---
Once again, it is a true pleasure for me to read these industry tips and predictions. I think we can all learn from one another, and getting more knowledgeable about the industry you work in is always a good idea, so I am thankful for that. I thought of sharing my tips with you as well.
I believe that the app economy is changing faster than we tend to acknowledge. It is no longer about downloading apps—it is which apps I, the user, wishes to use and keep using. We stopped adding new apps like crazy . . . "I don't want my phone to be crowded with apps I don't use. My phone is my access point to day-to-day activities and is with me all day long."
And that is why:
When it comes to mobile, you need to focus more on where the user is and what he or she is doing  than who he is—it is far more relevant! Think about the user's daily journey.What are they up to? How are they spending their day? What are their needs for services? This is much more relevant (and interesting) than their demographics.
In 1-2 years, we'll almost install no apps. Users will use our apps instantly, without downloading it to their devices. The real questions are: "Where do they find them? Where do they access them from?  You should be prepared for it. Your app should be super-relevant and offered to the user in a way that  he or she deems fit and will make it appealing. Make it a no-brainer decision, but one that serves both sides well.