Though smaller in size than its neighbors, South Korea remains one of the largest economic ecosystems in the world, and continues to show high rates of economic growth with every passing year. In fact, South Korea ranks first for global smartphone penetration, with a whopping 96% of the population owning a smartphone. South Korea's high smartphone penetration rate, strong connectivity and data capabilities, and advanced telecom infrastructure make it one of the strongest, most lucrative app economies in the world.
It's estimated that, on average, South Koreans use smart devices 4 hours per day, using around 45 different apps per month, 20 of which fall into the social media and gaming category. However, usage studies have shown that South Koreans prefer to use the same groups of apps for the majority of their screen time, making it difficult for new apps to gain market share.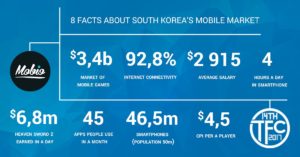 This large market base presents a vast opportunity for app publishers and owners who are able to successfully penetrate the South Korean app market. However, the South Korean technology market is strong and thriving, and South Korea's preference for local brands can make it difficult for international app publishers and owners to penetrate the market. In order to be successful, app owners should understand how the South Korean app market differs from other ecosystems around the world.
South Koreans have a Relatively High Median Income
South Koreans statistically have a higher median income than neighboring countries like China. The average South Korean resident earns 20,000 yuan ($2,925) each month, while the average Chinese resident in Beijing earns 12,000 yuan ($1,755) each month. South Korea enjoys a high standard of living, and most South Koreans have access to a smartphone device. This presents an opportunity for app owners and brands to monetize their apps in the South Korean market.
South Korea has Extremely Reliable and High Speed Data Connectivity
South Korea's data and connectivity speeds match its high smartphone device penetration, with 4G connectivity available in the majority of the country. While apps that require large data consumption or large downloads may have difficulties gaining users in emerging markets and areas of the world with poor data connection, heavy apps will have no problem reaching South Korean smartphone users.
South Koreans Prefer Local Brands over Imports
Looking at the South Korean app market in its entirety, South Koreans have historically preferred local brands to imported foreign brands. For example, South Koreans prefer local vehicle brands, like Hyundai and Kia, over international car brands. When it comes to smartphone use, South Koreans prefer Samsung and LG devices, both of which are South Korean brands.
Lee Youngmi, an account manager at Millward Brown, points to the South Korean population's need for the best products on the market as the reason why they prefer local brands. "South Korean consumers today are also very knowledgeable and discerning when it comes to consumer electronics and IT services, and want 'the best of the best' products and services," says Lee.
South Koreans are eager to find brands and products that fit their exact needs and preferences, while also maintaining high quality. International app brands and publishers that want to remain competitive in the South Korean app market should localize their apps as much as possible, and pay close attention to the detailed preferences of South Korean users.
There are Several Competitive App Ecosystems in South Korea
Even though Android devices are the primary devices in the South Korean app market, Google Play is yet to dominate the app store market. South Korea's extremely diverse ecosystem means that Google Play is not only competing with Apple's App store, but also competing with local mobile operators and platform owners, such as Kakao, who also offer downloadable mobile content. App marketers should focus on penetrating smaller, local app stores as well as Google Play and Apple App stores.
South Korea is Home to an Extremely Large Android Ecosystem
The majority of smart devices in South Korea are Samsung, which claims 56% of the mobile market share as of August 2018. Apple falls behind Samsung at 28% market share, followed by LG at 12% market share. Apple's seamless integration with multiple devices has helped it make strides in gaining market share, but Samsung remains the leader in the Android-heavy South Korean app market.  
In order to be most successful in the South Korean app market, app developers and publishers should consider developing for Android devices, paying close attention to develop for the specific preferences of the South Korean audience base.
Android Apps Monetize at a Higher Rate than Apple Apps
South Korea is very much an Android app market, with the majority of app users found on an Android device. This is mainly due to the telecom infrastructures that are in place in South Korea. Most data carriers offer carrier billing for fast, easy in-app purchases and downloads. This payment option allows users, even those without credit cards, to spend money on and within apps. Big players like Apple, Android, and even local South Korean app studios have seen stronger conversion and monetization rates than they have in non-carrier billing markets.
Apps that allow for carrier billing and provide fast, simple checkout processes will be able to monetize at higher rates in South Korea's lucrative app market.
Mobile Games are Gaining Rapid Popularity in South Korea
Reflective of the country's high connectivity and fast data speeds, South Koreans love entertainment and gaming. The country ranks 4th in the world for the amount of active mobile gamers in 2018. It is estimated that there are around 28 million mobile gamers in South Korea's current market, and mobile gamers are expected to spend $5.6 billion in the gaming market in 2018.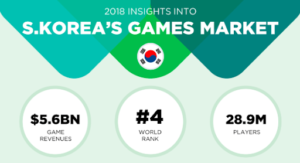 Local South Korean app development studios prefer to use a free-to-play model with their gaming apps, preferring to monetize through digital goods or advertisements rather than a paid download model. This presents a significant opportunity for mobile gaming apps to succeed in the South Korean app market and monetize their apps through in-app purchases and free-to-download apps.
Mobile Fitness Apps are also Growing in Popularity
While there are few team sports in South Korea, the demand for fitness apps remains high. It's estimated that there are more than 7 million fitness app users in South Korea today. Fitness mobile apps tend to perform well in South Korea, with the most popular fitness apps published by local South Korean app publishers. The annual growth rate in revenue for apps in the fitness segment is predicted to reach more than $93 million by 2021 (up from $45 million in 2016), and has seen around 10% growth rate each year.  This presents an opportunity for fitness and health apps to monetize their apps and increase download rates in the South Korean mobile ecosystem.
YouTube is the Most Used Mobile App in South Korea
YouTube is the most used app in the South Korean app market, due to South Korea's fast data speeds, large streaming capabilities, and love of influencer media. South Korean app users spent a total of 25.8 billion minutes watching video content on Google's YouTube; this number has tripled since 2016. In April of 2018, users were found to have spent an average of 882 minutes, about 14 hours, on YouTube alone.
App publishers and developers should allow for social integration with YouTube and encourage users to promote app usage on their YouTube channels.
The South Korean app market is considered one of the strongest app markets in the world, with nearly every user in the country having access to smart devices and data connections. Apps that aim to take advantage of this thriving audience base should create apps for Android devices and make social sharing as easy as possible. Apps should consider free-to-download pricing models, monetizing their apps through in-app advertisements and in-app purchases. Moreover, apps may consider partnering with specialized technology providers with local offices in South Korea, such as Appnext.