A scattered chain of 13,466 islands covering approximately 3,000km, and home to over 264 million people, what Indonesia lacks in physical congruency it makes up for with its rich culture and history. The Twenty-First Century has taken Indonesians by storm, and while it is still true that many remote atolls face challenges when it comes to modernization, people are clamoring for and embracing new technology at a rapid pace. Efforts to establish a reliable internet connection, powerful cell phone towers and other modern technological advancements in recent years have paid dividends in terms of improving the lives of millions of Indonesians in cities large and small. As a result, the e-commerce space in Indonesia is thriving and growing. Although it's estimated that approximately 15% of Indonesians currently shop online, it's predicted that the e-commerce market value will rise to $65 billion within the next 3 years. 

Number 1: Rapid Growth over Short Time Periods
With so much growth in such a short period of time, it's only a natural consequence that the e-commerce app space has already become a tricky space to navigate. Just take a look at the sheer number of eCommerce platforms available alone in 2017: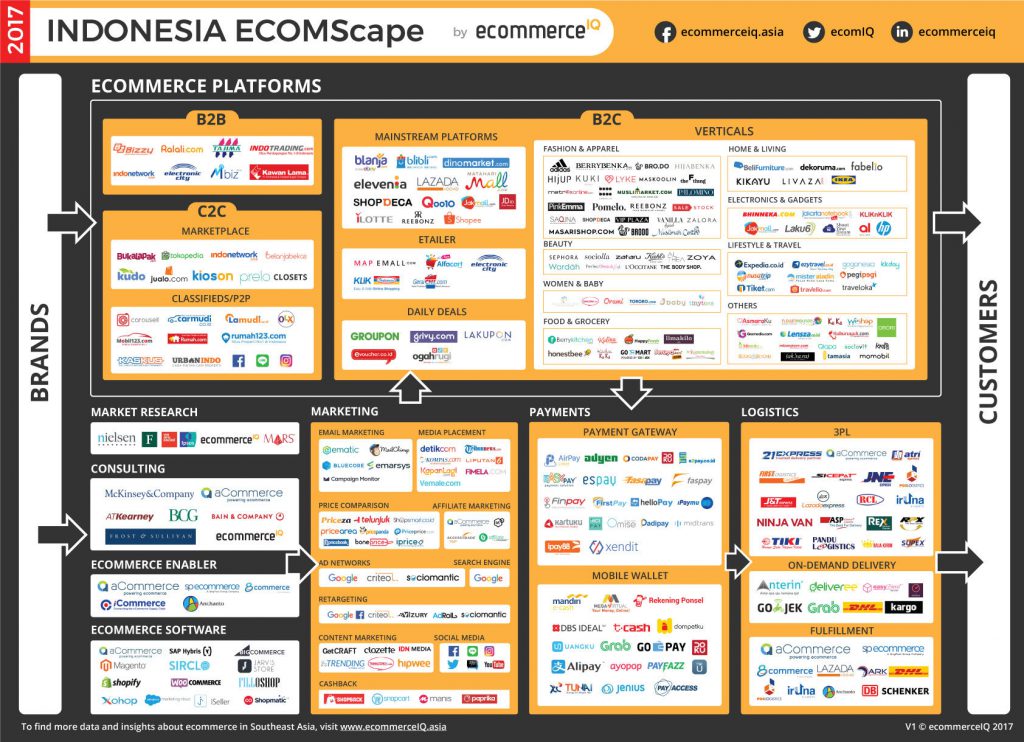 In fact, there are so many online stores open available in the app market that it would take the average online Indonesian shopper a whopping 80 years to view them all – spending just one minute on each!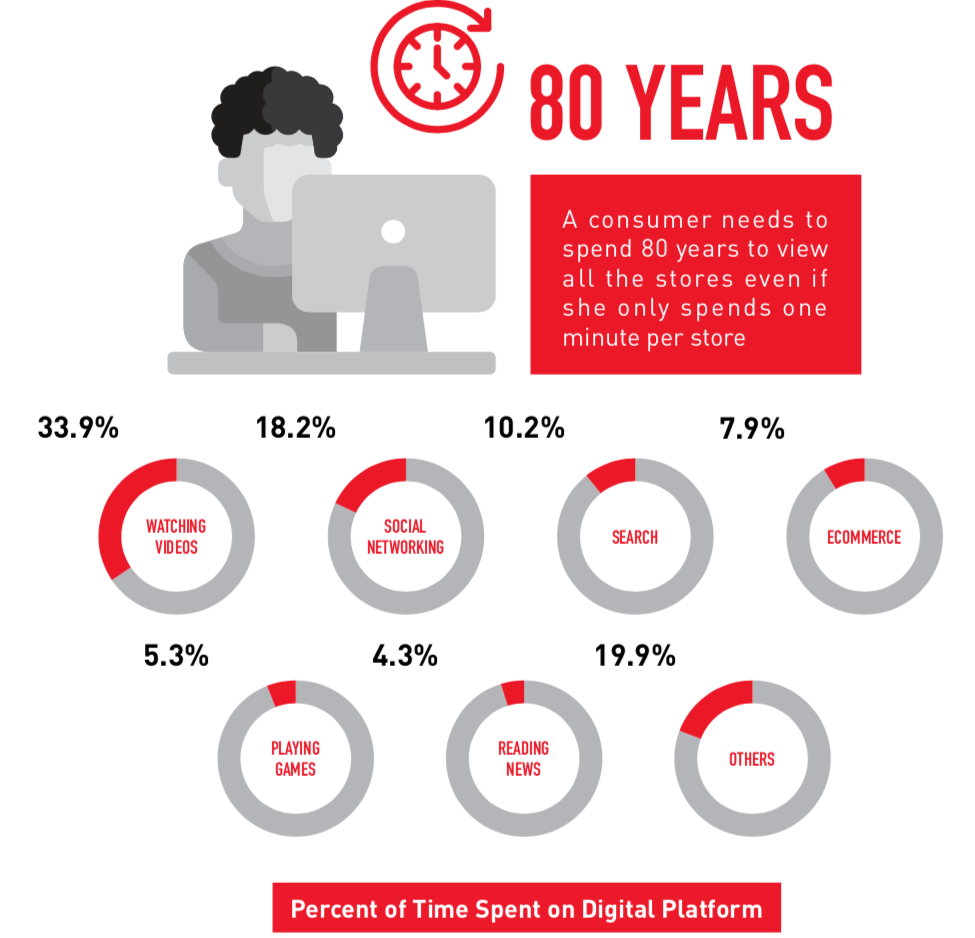 With so much potential comes endless opportunities for online-based brands to meet the unique e-commerce needs within the emerging Indonesian market. However, it can be difficult to discern which industries are growing fastest amongst the vast overall market growth. Overwhelmingly, emerging trends and data forecast strong growth continuing to be concentrated in four specific areas in the near future.

Fashion focused Zalora.ID remains the largest e-commerce platform in the Southeast Asian marketplace and is the tenth most visited website, with an average of 3.75 million users per month in 2019.

Founded in 2012 by Rocket Internet, Zalora has now expanded into eight countries and continues to grow steadily, and they aren't the only ones. Indeed, of the top ten most visited websites so far this year in Indonesia, three specifically cater to fashion brands, with combined monthly traffic of 46.55 million visitors.

Jewelry, in particular, is exceptionally popular, with global management consulting firm McKinsey & Company estimating that "e-commerce could facilitate up to $26 billion in new exports, or equal to 40 percent of manufacturing exports today. It also identified that jewelry exports, in particular, had benefited from online commerce." Says Philla Wibowo, McKinsey Indonesia's managing partner. She continues, "More sectors need to take notes from the jewelry sector because overall Indonesian exports through online commerce remain low, with many local merchants yet to tap into international markets."
Makeup and skincare are also major forces in the fashion-driven e-commerce sector. With 4.4 million average monthly visitors, e-commerce store Sociolla. ID has concentrated its efforts on specializing in beauty and cosmetic products with great success.
The company has seen a 35% increase in website traffic from the previous quarter, a clear indication that specifically female shoppers are a key Indonesian demographic embracing e-commerce and seamlessly integrating it into daily life. Sociolla.ID is a bit of a pioneer in their particular niche, and their recent two-fold campaign of providing discount codes and partnering with beauty influencers and bloggers, paired with easily accessible product reviews, demonstrates how e-commerce is opening doors for Indonesian men and women to experience traditional shopping with a convenient and modern twist. With unfettered access to a variety of hair and skincare products, as well as makeup, fragrance and beauty tools, Sociolla.ID's success indicates beauty and fashion are thriving commodities for Indonesian online retailers, and are holding their own in the B2C e-commerce market, as seen in the chart below.

Number 2: Social Media – A Sign of the Times
There is no denying the seemingly limitless power of social media, and as mobile Internet access continues to become more prevalent in Indonesia, so do its powerful social effects. With 84 million people online in 2017, over 150 million people are expected to be engaging ecommerce and social media platforms by 2023 (if not sooner). Social media, in particular, makes a lot of sense given Indonesia's unique geography, and it's an invaluable asset that allows families and friends to connect like never before. YouTube is especially popular with an 88% penetration rate in 2018, closely followed by WhatsApp (83%), Facebook (81%) and Instagram (80%).

In addition to bringing friends and families together, social media is an invaluable tool that's changing the way brands and products are marketed worldwide, and especially in Indonesia. However, when it comes to marketing in particular, not all social media app platforms behave the same, and the Indonesian market is no exception. Though they have nearly identical penetration rates, "brands promoting their products on Instagram successfully reached 100 percent of their followers, far more than Facebook, which only influenced around 6 percent of brands' total followers," as reported by Kuala Lumpur-based online shopping aggregator iPrice. 
This is especially noteworthy when Instagram trails Facebook in merchant social commerce platform popularity, but still grossly outpaces both Facebook and Facebook Messenger when it comes to delivering content to the targeted audience. Considering "more than 80% of merchants surveyed in Indonesia stated that they are selling through social platforms, mainly through Facebook/Instagram," it's clear that social media apps are a driving force in the e-commerce space and will continue to be so for the foreseeable future.

Number 3: Diverse E-Commerce Platforms Open Doors for Everyone
Generalist websites are by far the most successful e-commerce platforms currently operating in the Indonesian online marketplace. Boasting over 140 million average monthly views, Tokopedia is the fiercest competitor in the Indonesian e-commerce ring and is the largest online marketplace in the country.
Thanks to their seamless user-friendly design, individuals and businesses alike can easily open and maintain their own profitable online stores. The freedom this affords to the Indonesian people is unlike anything the country has ever seen, and Tokopedia's popularity is far from unanticipated. Having received funding from Japan's Softbank and Sequoia Capital, an American tech venture capital firm, Tokopedia's growth and popularity are far from slowing down.

Tokopedia's success is one of many and is closely followed by Bukalapak.ID, which also provides a central platform for brands and individuals to easily find one another and connect. Social media marketing has closely followed this model and enjoyed similar success but on a smaller scale, being vastly outpaced by the extra financial guarantees and other perks afforded by platforms like Bukalapak.ID, which maintains an estimated monthly traffic flow of 95.1 million visitors and increasing steadily.

Like Tokopedia, Bukalapak.ID is not just offering Indonesian users the opportunity to start their own business or shop for products at competitive prices. Instead, these generalist websites are providing consumers with the chance for financial independence by establishing their own marketplace, which pays dividends into enriching the Indonesian economy and strengthening the rupiah's global valuation.

Number 4: Change Starts at Home
The success of generalist websites obviously cannot be ignored, but there is still something to be said for specialized platforms. Like fashion, beauty, and jewelry, Orami has cornered their own sector to the turn of over 9 million monthly visitors seeking family and home care products.

No longer limited by their physical access to these types of brick and mortar retailers, Indonesian women are now free to explore a variety of competitive prices and options on anything from baby clothing, diapers, food, toys, hygiene products and more, all at the simple click of a button. Additionally, Orami provides users with access to a variety of home and child services through their platform. The implications of this unobstructed access to simple home and baby products are astronomical.
Interestingly, as Internet use has grown in Indonesia, as has the infant mortality rate, dropping from 22.9 per 1,000 live births in 2015 to 21.4 in 2017 in a continuing trend. While correlation does not guarantee causation, it cannot be denied that increased ease and accessibility to competitively priced and quickly delivered childcare products certainly cannot hurt. The opportunity to shop for these products from the comfort and safety of their own home also allows Indonesian parents more time and the ability to devote more attention and resources to the children in the home, rather than to a costly, distracting and even, at times, potentially dangerous trip to the nearest store.

Hindsight is Not 2020 for Indonesian e-Commerce
Indonesia tails only e-commerce giant China in sales growth rates in the previous year, which should give pause to both consumers and retailers alike. In Southeast Asia, this country of tiny islands is shaping up to make some big changes in the e-commerce space. From health and beauty to social media, Indonesian e-commerce is poised to make great strides in the way business is successfully conducted throughout Southeast Asia, and is absolutely the market to consider in the upcoming year. Keep watch as business conditions will continue to improve throughout the region as other countries follow Indonesia as they continue to blaze new trails in e-commerce marketplace.
Appnext is already serving 9B monthly app recommendations to mobile users in Indonesia and based on its current growth and new investments, Appnext estimates to reach 30B app recommendations a month by mid-2020. We are looking forward to working closely with local app developers and invite them to become a part of our already established and growing partner's ecosystem in Indonesia.