In this post, we will talk about how to set and focus your App Marketing strategy on boosting the visibility of your mobile app or game, and how to improve your ASO rankings in both the App and  Google Play.
There are already more than 5 million apps in the main app stores, and this number is growing every day. With app stores constantly evolving and changing their algorithms, you have to be up-to-date with the effects that these changes have on your app.
Not getting lost in this fast changing market, and having visibility in app stores search results can become a real challenge for developers and marketers. Luckily, there is a solution for that, and it is called App Store Optimization.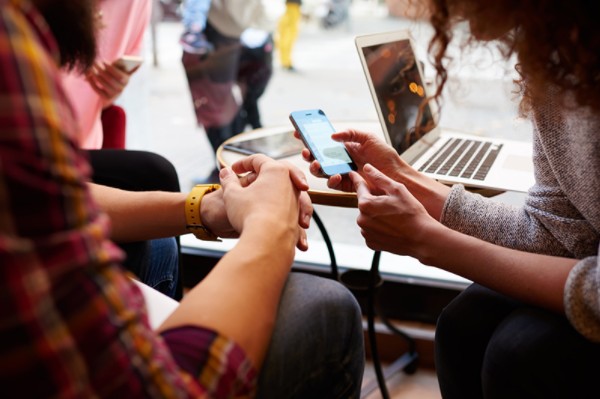 The importance of ASO
ASO, or App Store Optimization, is the process of optimizing an app or game in order to achieve maximum visibility in the app stores, improve conversion rate, and boost organic installs. The best practice is to keep your ASO strategy in mind from the very first steps, often even prior to launching your app.
App Store Optimization is an essential part of App Marketing, and its backbone is formed by the 4 key elements: Search, Top Charts, Featured, and Conversion Rate.
There are 2 different types of factors in ASO strategy: ASO On-metadata and ASO Off-metadata:
On-metadata factors are those who are under the direct control of developers, such as: App Name (Title), URL /package (only Google Play), Keywords field (for App Store), Short Description (only Google Play), Description, Category, Developer Name, Graphic elements (icon, screenshots, video, feature graphic), and App Size.
Off metadata, factors are usually not under the control of developers, but they can be influenced indirectly by marketing actions. These factors are volume and rate of installs, user reviews, volume of ratings, and average rating.
Today we will take a look precisely at the factors that matter the most for achieving high positions or rankings in search results. But why is it our main goal?
Why is Search so important?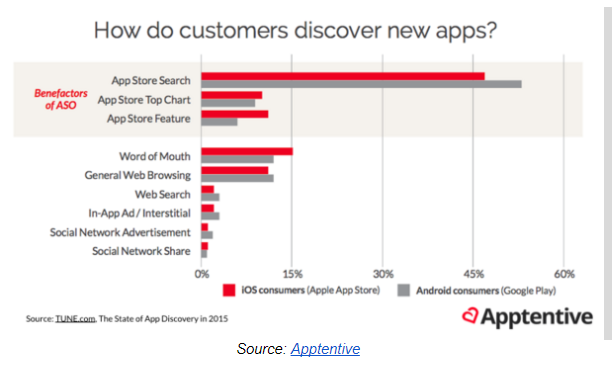 Every year surveys and data are revealing that search is maintaining the top position in the list of main sources of app discovery, followed shortly by the word of mouth – recommendations from friends & family. With another 13,5% of users saying they have found an app while searching for something in Google web, about a half of all app installs are coming from an explicit, intentional search.
Therefore, the first and the most important focus in App Store Optimization should be placed on search. Let's see what we need to do in order to achieve the desired visibility in app stores search results.
How to rank in app stores search results
In a recent study, more than 30,000 apps have been analyzed in order to determine the reason why top apps reach the highest positions in search, and the researchers have found out that there is a strong correlation between app rankings and the number of ranking keywords.
On average, top 10 apps were ranking for A LOT of keywords. The numbers differ slightly between the main app stores:
iOS apps: 65-110 keywords

Android apps: 60-105 keywords
It is important to note that just ranking for a lot of keywords was not enough – in order to reach the top positions, the app had to reach top-3 for many of the keyword terms.
Breaking it down a little, to get into the top 150 apps in your category on Google Play your app would need to rank for at least 15-25 search terms, and more than 25 terms in the case of App Store. To reach the top 10, your app would have to rank for more than 65 keywords.
So, according to the research, the recipe here is pretty easy. But in reality, it becomes extremely difficult to achieve this goal…
This is when App Store Optimization comes to the rescue.
Key elements of Search ASO
Let's take a closer look at the key factors of App Store Optimization that can help us rank higher for more keywords.
Search ASO: On-metadata
On the On-metadata side, we will have a strong focus on keyword research and try to point out all the possible keywords and keyword combinations (mid & long-tail keywords) that can be used to find our app or game in the stores. The general advice here is to go for the keywords with high traffic and low or medium competition level – this can help us achieve top positions for certain keyword terms (as many as possible).
There are some ASO tools that can help with keyword research – for example, Google Keyword Planner Tool, SEMRush or TheTool keyword research tool. Use these tools to find all possible terms to rank for, and analyze them in terms of traffic and difficulty/competitiveness. For example, in TheTool you can find both keywords suggestions and keywords distribution with difficulty levels and traffic size estimation:


Optimizing for Google Play Search ASO
For Android apps on Google Play, place these keywords in the text fields of app store listing:
Title

– a very strong instrument to rank for your main keywords. You have a max of 50 characters to include your brand name and some keywords.

Short Description

– use 80 permitted characters to write a catchy and keyword-rich description of the virtues of your app.

Description

– use the maximum possible number of characters (up to 4000) to create an appealing and structured description for your app. In Google Play Store you can highlight the text with rich formatting and emoji. Repeat your main keywords a few times, and pay attention to the first and the last five lines of text as they have the most weight for Google web search (SEO).

Developer name

– can also be used to include the main keywords you want to rank for.
For example, this app has put a strong focus on their keywords: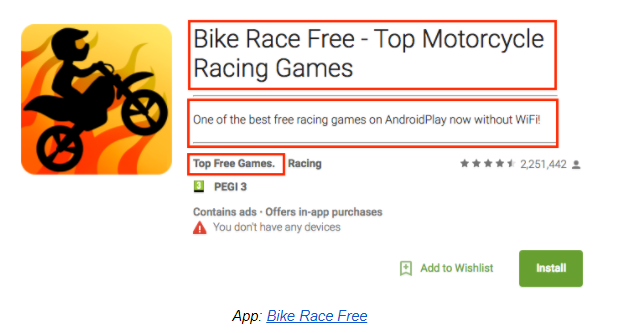 Optimizing for App Store Search ASO
For iOS apps on the Apple App Store the picture looks similar, but in the App Store short description is not available, and long description is not being crawled by Apple's search engine. Instead, they have a special keyword field to fill in with keywords:
App Name

– use the space in your app name to include some keywords alongside your brand name.

Keywords field

– it has just 100 characters, so use them wisely – write numbers with digits, don't put space between words, and don't use plurals if you have already included the singular form.

Developer Name

– same way as in Google Play, you can include a few keywords here.

Subtitle (iOS 11 & App Store 2.0)

– 30-character field placed right after the app name to emphasize the idea and purpose of an app – will have an effect on search rankings.

Promotional text (iOS 11 & App Store 2.0)

– a 170-character field displayed above the description of an app. Promo text can be changed between different versions of an app, while Description will remain fixed until the next app update. Another place to get creative and optimize for search!
Related content: Back to school – Going Back To The Basics with ASO Tips That Will Get You Extra Credit
Search ASO: Off-metadata
Optimizing On-metadata fields is a necessary, but not sufficient condition for reaching the top positions in app store search rankings. In order to rank high for the keyword terms, you need to get installs and ratings.
Both App Store and Google Play Store are ranking higher the apps with larger volumes of installs and user ratings – in other words, strong and powerful apps. Additionally, Google Play Store pays attention to the user reviews and crawls their content to find more keywords.
When you have your On-metadata well-optimized, your app would need some boost in the installs, for example, a user acquisition campaign, to start ranking for keywords. In this graph, you can see an example of the changes in the keyword rankings distribution after implementing ASO changes and following up with a user acquisition campaign in Facebook Ads.

Conclusions: ASO for app stores Search rankings
App Store Optimization is a great strategy to succeed with your mobile app business. Achieving high positions in search rankings in App Store and Google Play Store is not an easy task, but with the right actions and marketing efforts, everything is possible.
But ASO is not only search. With a right ASO strategy, you can find a way to reduce your costs on user acquisition, improve conversion rate, maximize organic traffic and monetize your app in an optimal way.
ASO is a MUST for mobile apps and games. Are you doing it already? 
Share your best practices in the comments!
Katerina Zolotareva is Marketing and Customer Success Manager at TheTool. She loves writing about App Marketing and Mobile Growth and helping app developers promote their apps!