1. Mobile Growth
According to the Global Digital Snapshot report, "a smartphone user consumes on average of 70% more mobile traffic per month than in 2016." The rapid growth of mobile app penetration into our lives directly affects the increase in the number of mobile-first companies that consider mobile advertising as a high priority. Mobile advertising spending grew by 49% worldwide, and Russia is no exception.
2. Cross-platform measurements and deep links
The giants of the industry have been building their fortresses and creating the right conditions to maximize LTV and to retain users. For instance, Google AMP pages keep users inside the Google ecosystem by giving them fast-loading content right in the search results. The user does not need to click through to other sites. Another good example is WeChat, which lets users do everything inside a single app: play games, make payments, order food, call a taxi, and rent a bike.
But the main issue remains: each consecutive platform asks the user to sign in or doesn't take them to the right page.  Cross-platform measurements are the pain points of marketing specialists and product analysts since they worsen the user experience. Switching from email to the browser or to an app is not seamless for the user. Fortunately, solutions are appearing on the market that are designed to even out these bumps. Adjust, AppsFlyer, Branch and other systems are developing deep-link technology and creating bridges between platforms. This is a key trend because it means we can correctly analyze and assess our clients' marketing activity.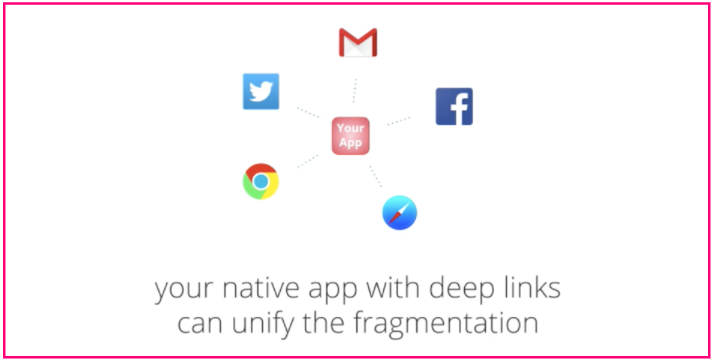 There are two major things that are broken because of the barriers that giant platforms build to keep users inside their app. Because of this, there are two major things that have been broken. First is attribution and second is the user experience. The user experience is a problem because you have no unified identity. Everywhere the user goes, you basically have to ask them who they are and what do they want. Sign-in screens are everywhere, in every browser, which is the only way to unify the identity across all this fragmentation.
It speaks to the importance of deep links trying to get the user from that touch point in email or from the post on Facebook or whatever it might be to go straight back into the experience where they belong."

– Branch co-founder and CEO Alex Austin at Branchout conference in San Francisco.
3. How the market is maturing
Over the past year, competition among traffic sources, demands on traffic quality, and the expertise of media buyers have all grown significantly. Affiliate networks and traffic arbitrage teams are shutting down or changing directions. Promorich ceased operations, MobiSharks became part of the Kokos Group, and DataLead released Appness and managed to pivot it to a freelance banner platform.
The ones remaining in the market are experienced media-buying teams and agencies who have been able to adapt to the new shifting conditions. Successful examples of company growth include the following companies: Borsch, WakeApp, ZorkaMobi, Httpool. The contextual advertising agencies are releasing new mobile projects, such as iConText agency.
4. Watch out for the Chinese market
The boom of activity in Chinese companies ended back in 2016—the last one was the dating messenger one from IGG Link. The traditionally active utilities from Apus, 360, Mobogenie and Clean Master have turned their attention to monetization, but it is challenging.
Tencent, the world's largest player in mobile and the owner of brands such as WeChat, DiDi, and hundreds of games, is still focused mostly on the internal Chinese market. The giant Baidu is even less international. Lecco had a failed attempt to enter the Russian market. Alibaba is maintaining a high level of activity in Russia with Aliexpress и UC browser.
5. Fraud is a sharp sword for both agency and client
New and complex types of fraud are appearing daily. Companies in the industry are investing hundreds of thousands of dollars in investigating fraud and developing technologies to fight it. The level of fraud has increased significantly, even compared with the previous year. Types of fraud such as click flooding and device ID fraud are as much as four times more frequent now.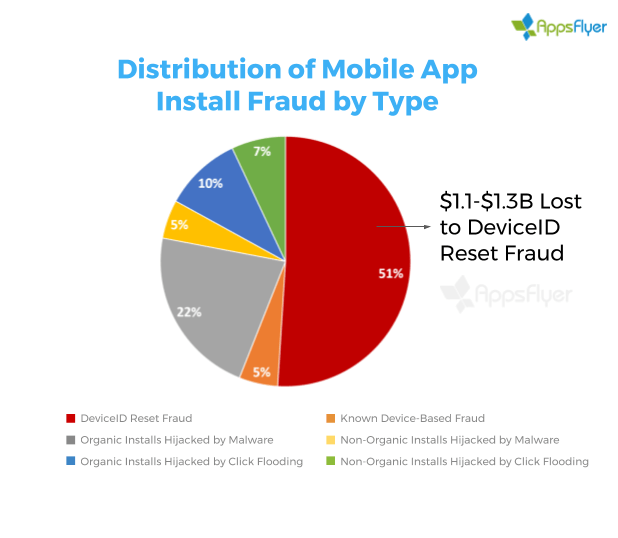 According to statistics from Appsflyer, the level of fraud in Russia is quite a bit lower than the average level worldwide. However, Russian advertisers lost more than $10 million due to fraud, 60% of which was device ID reset fraud.  
The client and the traffic partner are often caught in the same boat, where the traffic that the client and the network believed was clean turned out to be a new type of fraud. This is a difficult situation for both parties involved. There is a very fine line here, and the key factors are the company's reputation and willingness to reach a compromise. 
6. AR in ecommerce
Growth hacking in home furnishings retail was fueled by the use of AR. Multiple companies released AR apps simultaneously: Ikea, Build, Alibaba, Visa Europe, and many other companies.  Build.com shared a case study at the Branchout conference in San Francisco that showed how AR increased their sales growth tenfold. The realistic representation and product details are impressive, allowing customers to "try out" a chandelier on the ceiling to judge the size, number of light bulbs needed, and any materials required. It turns out that many people aren't willing to order furnishings without this technology.
7. Data is king
Leading mobile-first companies have been gathering and analyzing data for a long time already. In the U.S., traditional e-commerce is catching up. It's a good idea to start collecting data the right way and to store it on your own servers and not just in trackers and Facebook Business Manager. Learn to ask questions and try to get the answers that aren't so obvious. You need to analyze data at every stage of UA: retention, engagement, product building, and retargeting. The plethora of SDKs, platforms, traffic sources and analytics systems does not make this task any easier. Unfortunately, it's not a given to have analysts on staff in Russia, and this is a serious oversight.
8. Market consolidation in 2017
Dentsu Aegis Network signed a joint venture with People & Screens. Singular, the marketing analytics platform, merged with Apsalar in June of 2017. Apsalar specializes in ROI analysis for mobile developers. The integrated product will operate under the Singular brand. Tapcore joined the American company Airpush. By combining their resources, technologies and experience, the companies plan to offer new anti-fraud and monetization solutions for the applications market.
Conclusion
Today we can observe only the tip of the iceberg concerning the full potential of the mobile industry. Growing expectations for mobile applications motivates developers to create more and more technological and progressive solutions that are designed to positively transform User Experience. As a result of market acquisitions, partnerships and innovations—the ones remaining in the market are experienced media-buying teams and agencies who have been able to adapt to the new shifting conditions.
Sergei Konovalov, co-founder of Mobio, sums up the most significant events in mobile app promotions over the past year and shares his forecast for 2018.